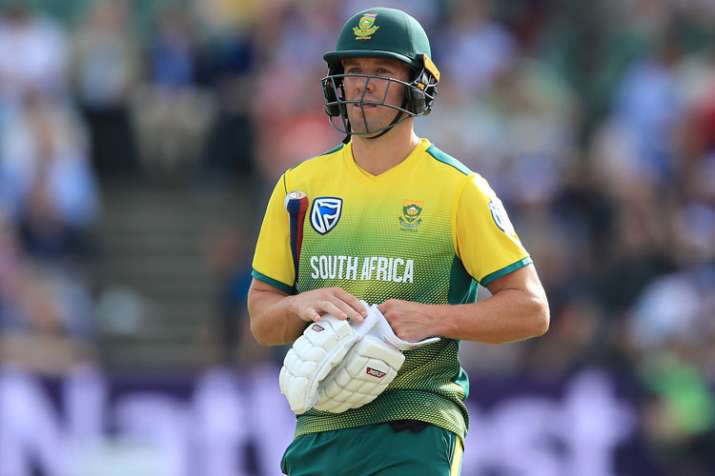 AB de Villiers, South Africa batsman, retires from international cricket
In a surprising decision on Wednesday, South Africa's star batsman AB de Villiers announced his retirement from international cricket with immediate effect. The right-handed batsman played 114 Test matches, 228 ODIs and 78 T20 internationals for South Africa and scored over 20,000 runs for his country.
De Villiers made the announcement on Twitter by posting a video message for the fans. Elaborating on his decision, de Villiers said he was "tired" and "running out to gas", and thought it was the right time to move on. The decision has come just four days after he played for the Royal Challengers Bangalore in IPL 11. 
"Hi, this is the Tuks Cricket Club at the High-Performance Centre in Pretoria where 14 seasons ago I arrived as a nervous youngster when I was first called in to the Proteas squad. Today at the same place, I want to let you know that I have decided to retire from all forms of international cricket with immideate effect. After 114 Test matches, 228 ODIs and 78 T20Is, it is time for others to take over. I've had my turn and to be honest, I'm tired," de Villiers said.
De Villiers admitted that it was a tough decision to make but stated that he "would love to retire while still playing decent cricket".
"This is a tough decision. I thought long and hard about it and I would love to retire while still playing decent cricket and after the fantastic series wins against India and Australia, now it feels the right time to step aside.
"It would not be right for me to pick and chose where and when and in format I play for the Proteas. For me, in Green and Gold, it must be everything or nothing. I will always be grateful to my teammates, to my coaches, and the staff of Cricket South Africa for their support through all these years. It's not about earning more somewhere else, it's about running out of gas, feeling that it's time to move on. Everything comes to an end. To cricket fans around South Africa and around the world, thank you very much for your kindness, your generiosity and today for your understanding. I have no plans to play overseas, in fact I hope I can continue to be available for the Titans in domestic cricket and I will remain the biggest support staff of Faf du Plessis and the Proteas. Thank you," he said.
The 34-year old cricketer made his international debut for Proteas in 2004 against England in the Port Elizabeth Test. Widely hailed as a modern-day great, de Villiers is easily the biggest cricket icon across the globe with an unparalleled fan following.
I've made a big decision today pic.twitter.com/In0jyquPOK

— AB de Villiers (@ABdeVilliers17) May 23, 2018
De Villiers holds the record for fastest fifty, fastest hundred and fastest 150 in ODI cricket.