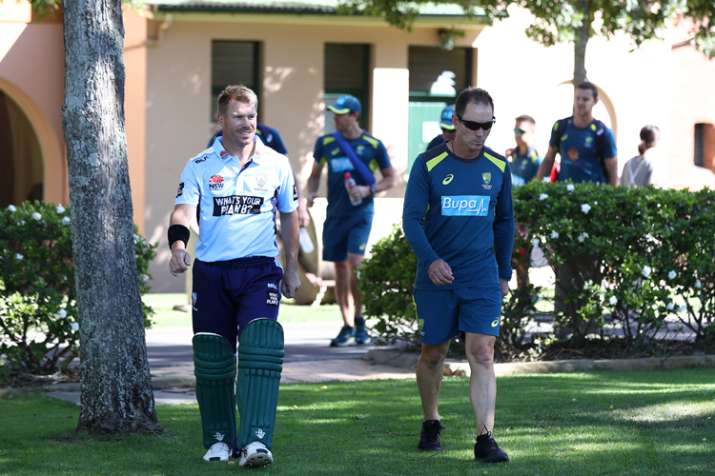 Australia coach Justin Langer said that the banned trio of Steve Smith, David Warner and Cameron Bancroft won't be brought back to the 'dysfunctional' Australian family just like that.
Langer, who took over the role of the coaching role after Darren Lehmann stepped down, said that a process will be followed to bring in the banned trio back into the setup because it's important for them to come back and feel important.
"There's going to be a process for the boys to come back and it is really important we start working on that process from now. We can't get to the point and just say 'right they're back'. It's not fair on them, it's not fair on the team, it's not fair on everyone," Cricbuzz quoted Langer as saying.
Smith and Warner, who were banned for 12 months for their involvement in the ball-tampering scandal by Cricket Australia, have been playing T20 cricket around the world and have been in touch with the game. Recently, the pair were seen taking the nets and facing Mitchell Starc, Pat Cummins and Josh Hazlewood as the trio prepared for the upcoming four-match Test series against India.
Speaking about the pair coming back to the Australian fold and spending time with the mates, Langer said: "It's nice to have Davey in and Steve had a hit yesterday, I had breakfast with him on Monday morning and I caught up with Davey for a couple of hours that afternoon as well. I didn't deliberately catch up with them separately. I caught up with Davey in Brisbane before we went to the UAE because I wanted to see him face to face. It's one thing exchanging text messages and emails, you have to talk face to face. We had a great catch-up.
"It was the first time I'd seen Steven the other day. I wanted it to be between us because there's lots to be spoken about and then over time we'll bring the brotherhood together and everything will be okay. It was great. I speak to Cameron Bancroft a bit, they've been through a tough 12 months, they've been penalised for making a really big mistake, no doubt about that, but we've got to get them into the group and every opportunity we get is a positive one."
Enjoy the very best of @stevesmith49's net session against Australia's Test quicks at the @scg today. Some of these shots are just 👌 pic.twitter.com/WusgsaKLH9

— cricket.com.au (@cricketcomau) November 27, 2018
Two of Australia's star quicks didn't hold back when David Warner jumped in the SCG nets this afternoon. pic.twitter.com/yyoUowozWP

— cricket.com.au (@cricketcomau) November 25, 2018
The southpaw compared his current situation with the times he took over Western Australia in 2012. It was a state association that wasn't in the good books of the other states and the team was disjointed and suffering. Langer took care of it and handled it with excessive care to make it a 'family' again and a succesfull stint followed.
For him, Australian cricket is currently undergoing the same phase and it will be important to bring the 'dysfunctional' together.
"I think we have all got to get together. When I first took over Western Australian cricket it was like a dysfunctional family and what I meant by that then the media hated the team, the team hated them back, club cricket hated the WACA, the WACA hated them back, the past players hated the WACA, the WACA hated them back.
"There was a lot of angst. I'm probably feeling that a bit now in Australian cricket, there's a lot of angst and for someone who is passionate about Australian cricket and now the coach I like harmony. I like family. A lot's gone on, let's not shy away from that, the closer we can bring the family back together, you would say a dysfunctional family, I know that's a headline for you, but that's what I felt back then.
"If you think about the ACA and CA, the public and the team, the media and the team, it's a bit disjointed at the moment, the more we can bring it back, the more harmony you get the happier environment for everyone. That includes the boys," Langer said.