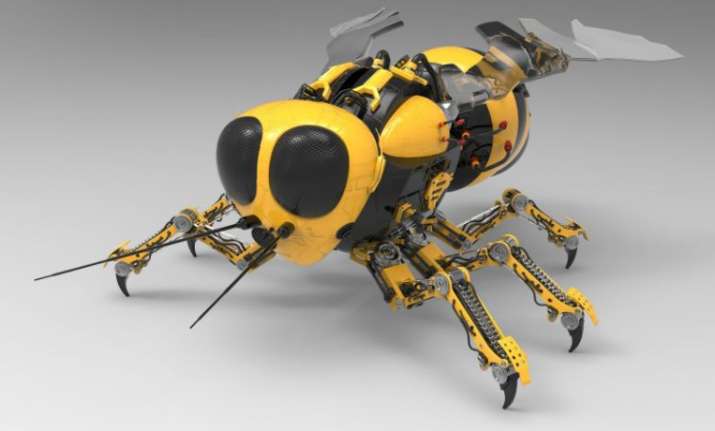 The US space agency NASA is planning to develop robotic bees with giant wings, wireless comms and sensors that can be sent to explore Mars. The Marsbees will fly out from a mobile base – probably a rover like Curiosity – map terrain, take samples and search for signs of life on the red planet.
'Marsbee' is among the 25 early-stage technology proposals selected by NASA that have the potential to transform future human and robotic exploration missions, introduce new exploration capabilities, and significantly improve current approaches to building and operating aerospace systems.
Other successful projects include Shapeshifters, Biobots, LEAVES along with several other visionary technologies.
"NASA is investing in technology concepts that include meteoroid impact detection, space telescope swarms, and small orbital debris mapping technologies that may one day be used for future space exploration missions," the agency said in a statement.
The 2018 NASA Innovative Advanced Concepts (NIAC) Phase I concepts cover a wide range of innovations selected for their potential to revolutionize future space exploration. Phase I awards are valued at approximately $125,000, over nine months, to support initial definition and analysis of their concepts. If these basic feasibility studies are successful, awardees can apply for Phase II awards.
"The NIAC program gives NASA the opportunity to explore visionary ideas that could transform future NASA missions by creating radically better or entirely new concepts while engaging America's innovators and entrepreneurs as partners in the journey," said Jim Reuter, acting associate administrator of NASA's Space Technology Mission Directorate. "The concepts can then be evaluated for potential inclusion into our early stage technology portfolio."
Nasa test launches supersonic parachute for future Mars missions
In an unrelated news, the space agency recently tested a supersonic parachute that will help NASA missions to land on Mars. The parachute was successfully launched into the sky during a key test designed to mimic the conditions of entering the red planet.
The Advanced Supersonic Parachute Inflation Research Experiment (ASPIRE) was launched aboard a sounding rocket on March 31 from NASA's Wallops Flight Facility in the US.
Analysis of the recovered chute and data gathered by the cameras and other instruments will help researchers complete the design of the chute for NASA's 2020 Mars rover.
The Mars rover is scheduled to launch in two years, on a mission to hunt for signs of ancient life on the Red Planet.
The six-wheeled vehicle, whose body is based heavily on NASA's Curiosity Mars rover, will study rocks on site and cache samples for eventual return to Earth.
(With inputs from agencies)