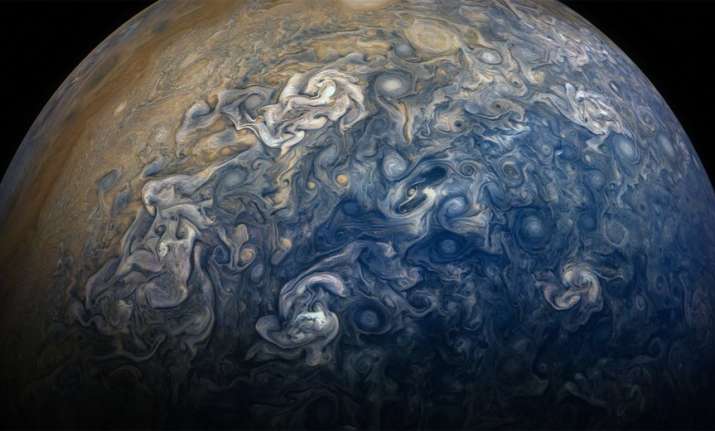 The giant planet Jupiter, haunted by tumultuous gases, looked downright like a jewel in the sky in the latest images captured by US space agency NASA's Juno spacecraft.
Juno probe regularly sends amazing photos of the largest planet of the solar system, but the recent pictures reveal how hostile the atmosphere of a planet can be.
JunoCam imager installed in Juno spacecraft captured the haunting image at 9:43 a.m. Dec. 16, 2017, reported MLive. NASA says the probe was nearly 8,292 miles (13,345 kilometers) above the tops of Jupiter's clouds while capturing the "mind-bending" image at a latitude of 48.9 degrees. 
Thanks to citizen scientists Gerald Eichstädt and Seán Doran who processed the image to enhance its colors and make it look more appealing to space enthusiasts, before releasing it on the NASA's official website.
High Above the Jovian Clouds: This image of colorful, turbulent clouds in #Jupiter's northern hemisphere was captured during my latest flyby of the planet https://t.co/zQ6OFl5WLC pic.twitter.com/NWMxnJzGwA

— NASA's Juno Mission (@NASAJuno) January 4, 2018
As pretty as a planet can get, but get too close and Jupiter will END YOU. @NASAJuno pic.twitter.com/tfIiAgf4pE

— Seán Doran (@_TheSeaning) December 22, 2017
"Each new orbit brings us closer to the heart of Jupiter's radiation belt, but so far the spacecraft has weathered the storm of electrons surrounding Jupiter better than we could have ever imagined," Rick Nybakken, project manager for Juno, said in a past news release.
The Juno spacecraft was launched to unlock Jupiter's secrets to improve the understanding of not only the solar system's origins, but the gigantic planet's as well. JunoCam imager, which captured these breathtaking pictures of Jupiter, was not included in the spacecraft for the mission initially. But, scientists installed the colored camera just to ignite the interest of the public in the iconic mission.
NASA reports Juno's mission is to try and determine how much water is in the planet's atmosphere and to measure its composition, temperature and cloud patterns. It will also attempt to map Jupiter's magnetic and gravity fields. 
It launched on Aug 5, 2011 and arrived to Jupiter in July of 2016. Juno will orbit the planet for 20 months, and de-orbit into the planet in February 2018.
Juno's name comes from Roman mythology. The mythical god Jupiter drew a veil of clouds around himself to hide his mischief, and his wife — the goddess Juno — was able to peer through the clouds and reveal Jupiter's true nature.