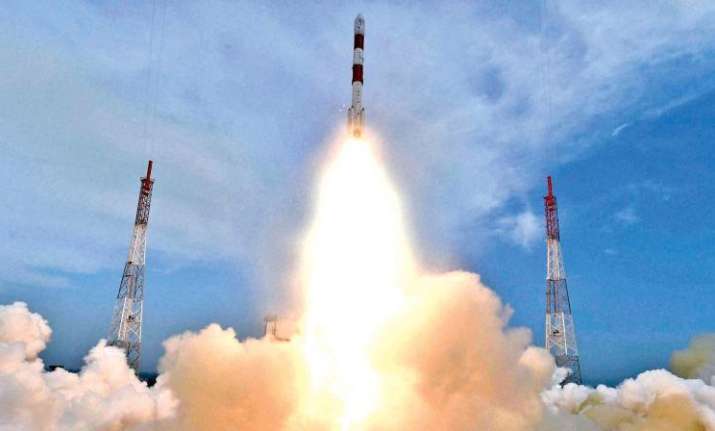 Indian Research Space Organisation (ISRO) is preparing to conduct its massive launches including the Chandrayan-2 in the next seven months. The organisation will be launching two satellites within 30 days back-to-back for seven months. There are going to be 19 missions in total, including 10 satellites and 9 launch vehicles, starting September 2018 to March 2019.
The mission will begin from September 15 with the launch of PSLV C42, carrying UK satellites- Novasar and S1-4, it will be a completely commercial launch.
In October there will be two launches, first would be GSLV MkIII-D2, also known as 'bahubali'. This is ISRO's most powerful rocket wiht lifting capability of 4-tonne. The rocket will carry GSAT-29 which will help reduce the digital gap in rural regions. Another launch scheduled in October is of PSLV C43 carrying hyperspectral imaging satellite.  
In the month of November, GSLV F11 will launch GSAT-7A, the satellite will help Inidan Air Force (IAF) to connect its ground radar stations, bases and AWACS aircrafts. On November 30, ISRO will launch its heaviest satellite of 5.6 tonne, GSAT-11, from French Guiana.
During the month of December, ISRO will launch Emisat through launch vehicle PSLV C44. Later, the organisation will send a  replacement satellite for Insat 4CR from French Guiana, GSAT-31, a communication satellite. 
ISRO will enter new year of 2019 with its most awaited mission, Chandrayaan-2. The launch is scheduled within a small window of 43 days i.e. from January 3 to February 16. India will be in race with Israel to become the fourth country to land on the lunar surface, as they are launching their moon mission around the same time. ISRO's PSLV C45 rocket will carry a remote sensing satellite Risat-2B in the month of January. 
During the month of February, ISRO will launch Catrosat-3, a remote sensing satellite and NEMO AM, next-generation earth monitoring and observation-aerosol monitoring satellite. Both the satellites will be launched through PSLV C46.  
In the month of March, ISRO will launch Risat-2BR1. The satellites Risat-2BR1, Risat-2B and Catrosat-3 will improve the surveillance capability of India.