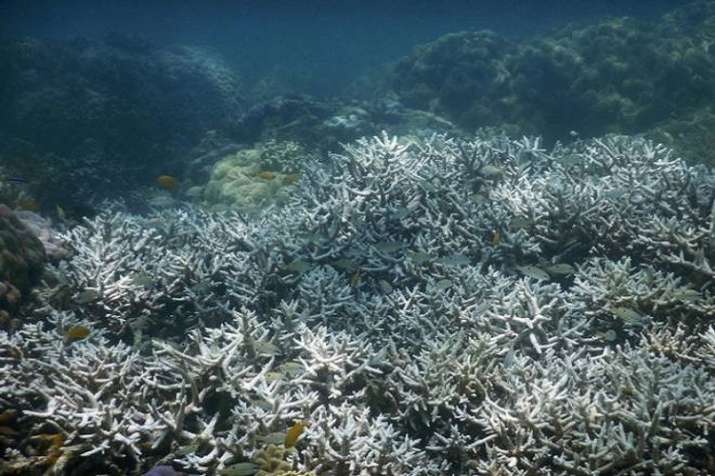 According to a new research, the surface measurements alone may not accurately predict the full extent of thermal stress on deeper corals. Scientists however, routinely use sea-surface temperature data to predict the temperature-driven stress on reef communities, the data of which is collected by the satellites.
The novel approach for predicting warm temperature-induced stress on corals from the sea surface has been described by a new study, through a deeper expanse ranging from 30-150 meters (100-500 feet) known as the mesophotic zone.
Some in the science community believe that corals at this depth are safer from ocean warming than their shallow-water counterparts.
However, according to the Scripps Oceanography team, corals are episodically exposed to thermal stress at intervals, different than those corals near the surface even in the deep.
Using data sets of nearly two decades, which also includes sea level, sea-surface temperature, and temperature observations that ranged between the surface and deep into the mesophotic zone, the researchers developed a forecast tool for the vertical extent of how corals will be stressed by temperature.
In addition, a network of reef temperature recorders maintained by CRRF divers was used by the scientists in key locations across Palau, down to depths of 90 meters (295 feet).
Dives on weekly basis were conducted by a team for almost 20 years, as part of a long-term temperature-monitoring program.
In the observations, it was shown that deeper zones had bleaching coincident with the higher temperatures, right along with shallow reefs.
It was found that the height of the surface of the ocean is a strong indicator of how water temperatures are bringing changes to tens of meters below. This observation followed the process of coupling sea level and sea temperature data sets.
"A surprising outcome of the study is that the oceanic conditions along the dramatic reef walls, which are the boundaries of Palau, are very representative of the broader Western Pacific," said Eric Terrill, an oceanographer.
"As a result, we had a surprising amount of success in predicting the vertical structure of the temperature fields that the coral communities would be exposed to, even during El Niño conditions," he added.