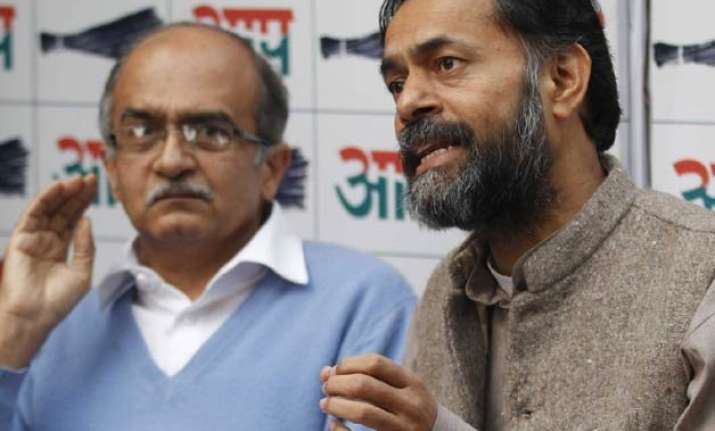 New Delhi: The two senior AAP rebel leaders, Prashant Bhushan and Yogendra Yadav have hinted of floating another political party. Both the leaders will now hold a convention of their supporters and volunteers on April 14 to strategies on the way forward.
Bhushan and Yadav were expelled from APP's national executive for "anti-party activities".
In an interview to Indian Express, Prashant Bhushan on Monday said, "We will have a convention where we will see what the majority feel, what consensus emerges."
Sources quoted by The Indian Express said the meeting will largely choose between three possible strategies. The duo could consider fighting from within the party itself, forming a new political party or creating a front which is non-political but raises several issues like land acquisition and forest rights.
"We can either approach the courts or continue to fight within the party. Some volunteers are outraged and want to go this way, but most believe that this is a political battle, and not a legal one. Going to the courts is a long, bitter, negative and protracted battle which people may not want. However, the option of court is open to challenge the hooliganism in the National Council," a leader said quoted by Indian Express.
They said that the convention would discuss the option of forming a separate political party. "That is one of the options while the other is to form a front that fights on key issues. There are so many that the country suffers from like land acquisition, forest rights and so on. It is all a matter of discussion at this stage, but most believe that these are the two most viable options before us," a leader said.
On their future course of action, Yogendra Yadav said, "My opinion is that the spirit of the AAP movement has to be kept alive. We must march forward. We must not allow these incidents and negativity to affect us. We should move forward. The way to move forward would be to generate energy in the country."