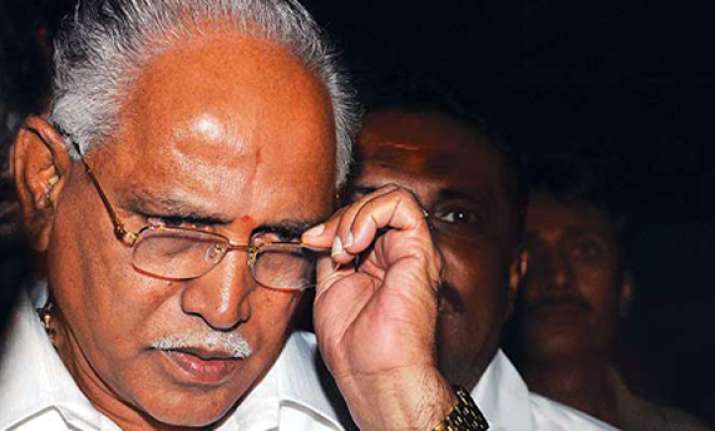 Belgaum (Karnataka), Dec 8: Presence of former chief minister B.S. Yeddyurappa in this northern Karnataka city Friday and his meeting with some ministers and lawmakers of the ruling BJP during the winter session of the state legislature rattled the party's state leaders.
Two days ahead of his maiden public rally - after quitting the Bharatiya Janata Party to join the fledgling Karnataka Janata Party (KJP) - Sunday at Haveri, Yeddyurappa held a hour-long meeting with a half-a-dozen ministers and about 30 legislators loyal to him.
"I still have the support of about 30 legislators, including ministers and 30 more are ready to join me at the appropriate time. I came here to ascertain how the winter session is going on and how the state government was performing," Yeddyurappa told reporters after the interaction.
Among the ministers who interacted with Yeddyurappa were Umesh Katti, V. Somanna, B.J. Puttaswamy, Murgesh Nirani, M.P. Renukacharya, C.M. Udasi and the lone woman minister in the cabinet Shobha Karandlaje.
The ruling party's first chief minister in south resigned from the BJP and Shikaripura assembly segment Nov 30 in Bangalore to join the KJP and launch the campaign for the ensuing assembly poll - due in April/May 2013 - from Haveri Dec 9.
"I am not forcing any minister or legislator to attend the rally but will not stop them if they come on their own, as it is a public rally and they have as much right to do being in public service," Yeddyruappa said.
In response, BJP state unit chief K.S. Eshwarappa warned Yeddyurappa loyalists of stern action if they go ahead.
All the ministers and lawmakers are camping at Belgaum since Wednesday to attend the week-long winter session of the legislature, being held at the newly-built Suvarna Soudha on the city's outskirts.
Advising his loyalists not to precipitate crisis by resigning from the ruling party and bid for time, Yeddyurappa said he would not destablise the three-month old Jagadish Shettar government before the assembly election.
"I want the present government to last its term, which is due to end in May next. Since I had installed Shettar as the chief minister, I wish his government completes its tenure. If the government falls, the state will go to election under President's rule, which I do not want," Yeddyurappa asserted.
Refuting charges that he was holding the public rally in the midst of the assembly session to demonstrate his strength and the support he commanded in the ruling party, the former chief minister clarified that as people were his strength, he need not depend on others to mobilise support for his new regional party.