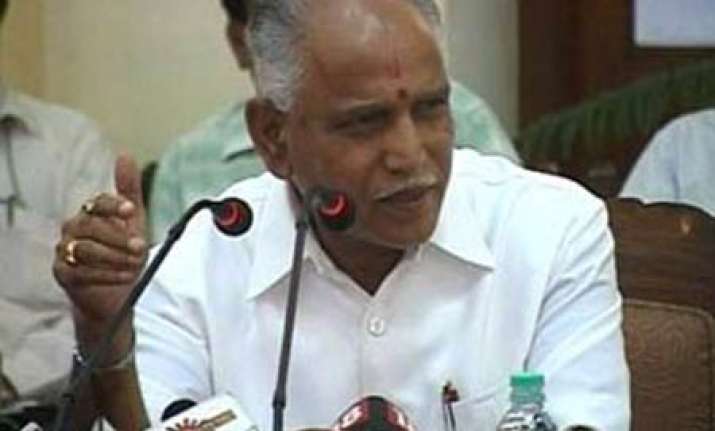 Bangalore/New Delhi, Nov 19: With Karnataka Chief Minister B S Yeddyurappa under mounting pressure over alleged land scams, his son, daughter and two relatives surrendered their plots, as BJP's top brass today weighed the pros and cons of his continuance in the post.
Yeddyurappa will be meeting the BJP leadership after he was summoned to the Capital to explain his position following up on his face saving effort over the controversy on allocation of prime land to his family members. He is likely to reach the capital late tonight.
Simultaneously, the BJP's core group in Karnataka is preparing to hold a separate meeting in New Delhi with BJP President Nitin Gadkari to discuss the crisis facing the party's first government in the South.
"Whenever and wherever clinching evidence is there against our minister or chief minister, action will be certainly taken," senior BJP leader S S Ahluwalia said in New Delhi.
Opposition Congress and JDS stepped up pressure demanding immediate resignation of Yeddyurappa with their leaders saying the action of surrendering plots amounted to a virtual admission of guilt by the chief minister that called for punishment and not exoneration of the offence.
Official sources in Bangalore said B Y Raghavendra, MP, handed over a letter to the Bangalore Development Authority surrendering 50 X 80 feet site allotted to him in the upscale R M V Extension.
Yeddyurappa's daughter Umadevi sought cancellation of two acres of industrial land alloted to her near Harohalli by the Karnataka Industrial Development Board, sources said.
Two relatives of Yeddyurappa, who had been allotted sites by BDA, also surrendered them, they said.
Yeddyurappa is engulfed in a controversy over allotment of KIADB lands to his daughter and denotifying BDA lands for his son-in-law Sohan Kumar and sons--B Y Raghavendra and B Y Vijendra.
The move came a day after the state cabinet ordered a judicial probe into allotment of land in the last ten years, that also covers the rule of External Affairs Minister S M Krishna as Chief Minister and Dharam Singh (Cong) and H D Kumaraswamy of JDS.
In a politically significant move, Yeddyurappa announced in Hubli that the judicial probe would now cover the last 16 years, apparently seeking to target former chief minister H D Deve Gowda.
The inquiry would now include denotification of lands by Karnataka Industrial Area Development Board and Bangalore Development Authority from 1994 till date, Yeddyurappa told reporters in Hubli.
The move is seen as an attempt to bring under the scanner, the regime of ex-Chief Minister H D Deve Gowda who with his two sons have been targeting the Yeddyurappa government.
While there is speculation that Yeddyurappa may be asked to go, the BJP top brass is said to be weighing all the pros and cons before taking a decision.
One option being explored is replacing Yeddyurappa, whose involvement in the land scam has taken virtually taken the sting out of BJP attack on the Government on corruption, with another Lingayat leader Jagdish Shettar. PTI