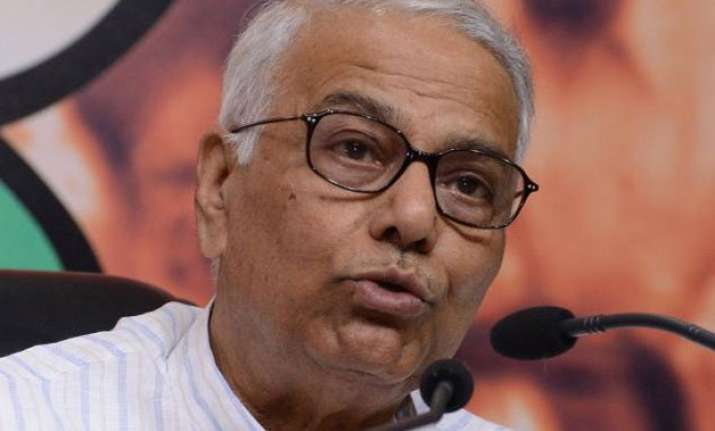 New Delhi: Senior Bharatiya Janata Party (BJP) leader and former External Affairs Minister Yashwant Sinha today criticised the government's decision to hold National Security Adviser-level talks with Pakistan.
He said that the talks between the two neighbouring countries will be a 'dialogue of the deaf'.
"It will be a dialogue of the deaf," he said.
Pakistan's NSA Sartaj Aziz is schedule to travel New Delhi on August 23 to hold talks with his Indian counterpart Ajit Doval.
Sinha noted that the previous NDA government (led by Atal Bihari Vajpayee) had evolved a stand that terror and talks cannot go together.
"Therefore, in the 10 year rule of UPA we criticised Manmohan Singh for departing from the BJP position," he said.
He also termed that timing of the talks most 'unsuitable'.
Also Read: Pakistan envoy invites Kashmiri separatist for reception party of Sartaj Aziz
"It will be a waste of time. It denied Kasab was a Pakistan national till substantial evidence was dumped at its door. It's denying that the terrorist nabbed in Udhampur is its citizen. When India asked for Hafiz Saeed to be handed over it wanted Aseemanand, accused in Samjhauta blast. Pakistan has a dossier ready to counter each dossier India hands over."
Indian Prime Minister Narendra Modi and his Pakistan counterpart Nawaz Sharif had in Ufa decided to discuss all outstanding issues. They had agreed that the NSAs of the two sides should meet first to discuss issues connected to terrorism.
Last year, India had cancelled the Foreign Secretary-level talks after Pakistan High Commissioner Abdul Basit met Kashmiri separatists ahead of the planned meet.