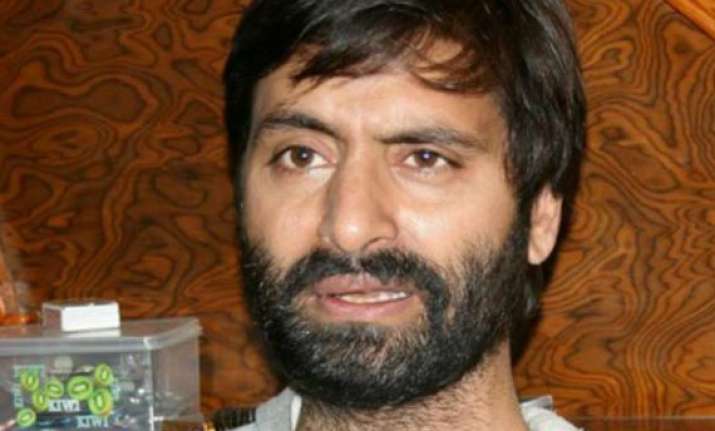 Srinagar, May 31: Separatist JKLF chairman Mohammad Yasin Malik yesterday ruled out meeting the Prime Minister during his proposed visit to Kashmir next month and called for a general strike on the day Manmohan Singh lands in the Valley.
"What for is he (Singh) coming to Kashmir? He failed to respect the transition of Kashmiri people from armed struggle to a non-violent movement," Malik told reporters here.
He said, a complete general strike will be observed in the Valley on the day Singh arrives here.
"It will be observed as a black day to send a clear message to him," Malik, who was pushed back to Kashmir from earthquake hit Doda region in the wee hours yesterday, said.
Malik, who was one of the separatist leaders to meet Singh in 2006 as part of the peace process said, Kashmiris have got nothing but death during the nine years of his Prime Ministership.
"In a peace process, we see release of political prisoners. Here we got 32 life imprisonments (handed to Kashmiris by various courts). Here we got 72 innocent deaths in 2008 agitation, 45 deaths in 2009 and 124 deaths in 2010," he said.
Malik said, during his meeting with the Prime Minister in 2006, he had raised the issue of disappeared persons and Singh had assured him that he will address it on priority.
"We are in 2013 and he has done nothing. There is no closure for the families of these missing persons," he said.
The Prime Minister is slated to visit the Valley to open the Qazigund-Banihal portion of the Kashmir rail link.
The JKLF leader alleged that Parliament attack convict Mohammad Afzal Guru was "murdered" by the Centre.
"When you do not respect your own law, execution of death sentence becomes a murder. Guru's mercy petition was rejected in secrecy and he was not offorded the opportunity of appealing against the rejection of his petition as has happened in the sandalwood (smuggling) case," he said.
On the local administration stopping him from distributing relief material in quake-affected Doda region, Malik alleged the strings for this action were pulled by the Congress high command.
"It was a political decision taken by Congress in Delhi. Show me one instance where relief workers are stopped from reaching out to the affected. It was not JKLF or Yasin Malik's money, but help from people of Kashmir to the victims," he added