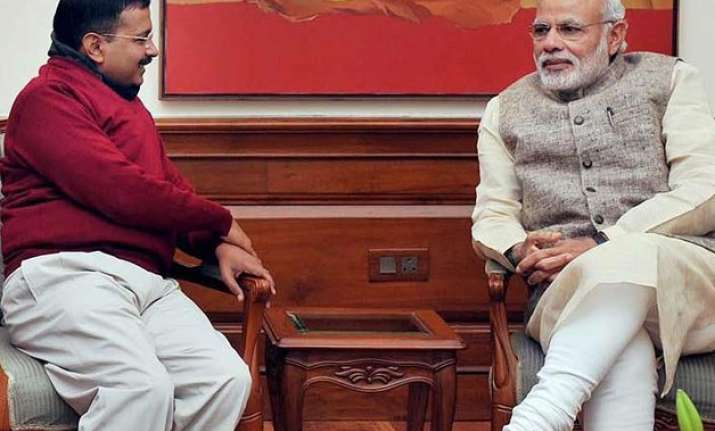 New Delhi: Prime Minister Narendra Modi and Delhi Chief Minister Arvind Kejriwal are set to share the same stage in the former's Lok Sabha constituency of Varanasi. Prime Minister Modi and the Delhi Chief Minister will both be in Varanasi on February 22 on the occasion of Ravidas Jayanti.
Confirming the Prime Minister's visit, Union Minister Vijay Sampla said Modi has been invited to attend the celebrations, which he will after his visit to the Banaras Hindu University (BHU) on the occasion of its 100th Foundation Day. According to Sampla, the Prime Minister will also be addressing Ravidasiyas near Ravidas temple in Seer Govardhanpur area.
On the other hand, PM Modi's bete noire Kejriwal is also set to attend the same celebration. The confirmation on Kejriwal's visit came from Aam Adami Party's (AAP) east Uttar Pradesh convener Sanjiv Singh.
Singh, however, said that though he is yet to receive a detailed programme from the party on Kejriwal's visit, the Delhi CM will be present in the city on February 22. "Arvind Kejriwal is visiting Varanasi on Ravidas Jayanti to offer prayer at Ravidas temple. But a detailed programme of his entire schedule is yet to be received," he said.
Kejriwal's visit, his first after the general elections, is significant because more than 1 lakh Ravidasiya Sikhs from Punjab will flock to the city to offer prayers at the Ravidas temple.
The AAP is focusing on Punjab ahead of the assembly polls in the state. The Kejriwal-led party also plans to contest the Uttar Pradesh assembly polls and is vying for the support of Dalit voters much like its political adversaries.
The celebrations of the birth anniversary of Dalit saint Ravidas is expected to see the attendance of more than 5 lakh followers, which make for a significant share of votes.
In many ways, the clash of the visits of both leaders for the same celebrations is being pegged as a rerun of the Lok Sabha polls which saw a bitter battle between the two. The two leaders had contested the Lok Sabha polls in 2014 from Varanasi with Narendra Modi emerging victorious.