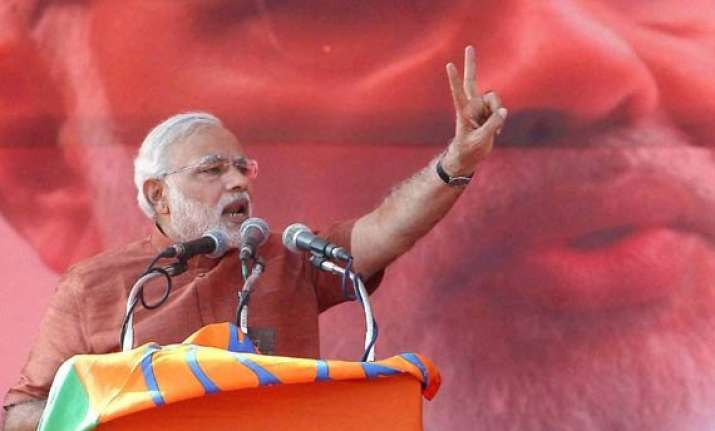 New Delhi: Now that the BJP looks all set to form the next government in Jharkhand, the question being hotly debated in political circles is - who will be the next Chief Minister?
 
With the defeat of Arjun Munda, the most formidable CM candidate, the question becomes even more interesting.
 
Political analysts are coming up with various names but they are also not ruling out the possibility of Haryana being repeated in Jharkhand.
 
Like the Haryana assembly elections, BJP relied heavily on the personal charisma of Narendra Modi in the Jharkhand elections. Narendra Modi surprised everybody by picking Manohar Lal Khattar, a lightweight in Haryana's politics, for the CM post.
 
It was pointed out that Khatter was a trusted colleague of Modi from his RSS days and that Modi wanted someone like him who could make sure that the promises he made to the people of Haryana during the election campaign are fulfilled with all sincerity.
 
Will Modi do the same in Jharkhand? After Arjun Munda's defeat, the field is now wide open for the CM's  position.
 
Who all are in the reckoning for the CM post in Jharkhand? Let's have look at all probable names from BJP:
 
1. Raghubar Das: An old RSS hand, Raghubar Das is a former Deputy Chief Minister of the state. He has won from Jamshedpur East constituency in the assembly elections by a huge margin of nearly 70,000 votes. 58-year-old Das was also the state president of the party in the past.
 
2. C P Singh: Chandreshwar Prasad Singh is a four-time MLA and is also a former Assembly Speaker. One of the prominent non-tribal faces of the party, C P Singh has been active in politics since his Janata Party days. He has won the Ranchi assembly seat by a huge margin of 60,000 votes.
 
3. Shiv Shankar Oraon: Shiv Shankar Oraon is a prominent tribal face of the BJP and is a product of JNU. He is very close to RSS and is looked upon as a very seasoned and knowledgeable leader. He won the assembly poll from Gumla by a margin of 4,000 votes.
 
4. Ganesh Mishra: One of the prominent non-tribal faces of the BJP,  Ganesh Mishra is very close to RSS. He is known to be an excellent organization man. He was entrusted with various important responsibilities in the party. He however lost the assembly poll by a margin of nearly 1,000 votes to the Marxist Coordination Centre rival Arup Chatterjee.
 
5. J B Tubid: 56-year-old Jyoti Bhramar Tubid is a former IAS officer. A former Home Secretary in Jharkhand, he took voluntary retirement to join the BJP. He is very popular among the tribals of the state and is also connected to the traditional political family of Kolhan. However, he lost the assembly poll from Chaibasa to his JMM rival by a margin of 34,000 votes.
 
6. Anant Ojha: 41-year-old Ojha is very close to RSS and many of the top-line BJP leaders. A former president of Bhartiya Janata Yuva Morcha (BJYM),  Ojha is known to be a very friendly person. He comes from Santhal Pargana region where the BJP has big plans for expansion. He won the Rajmahal assembly seat by a slender margin of 700 votes defeating his JMM rival.
 
7. Louis Marandi: A giant killer in politics, Louis Marandi defeated Jharkhand chief minister Hemant Soren by a margin of 5,200 votes from Dumka. He is another popular face of BJP in Santhal Pargana. A Christian by faith, Louis Marandi is a former National Secretary of BJP.
 
8. Jayant Sinha: Son of former union minister Yashwant Sinha, Jayant Sinha is presently the Minister of State for finance in Modi govt. Jayant is a pass out of the prestigious IIT and also holds an MBA degree. He is said to be very close to Narendra Modi .
 
9. Sudarshan Bhagat: Sudarshan Bhagat is Minister of State for Rural Development in Modi govt. He was also a minister in previous BJP governments in Jharkhand. He is also said to be very close to RSS.