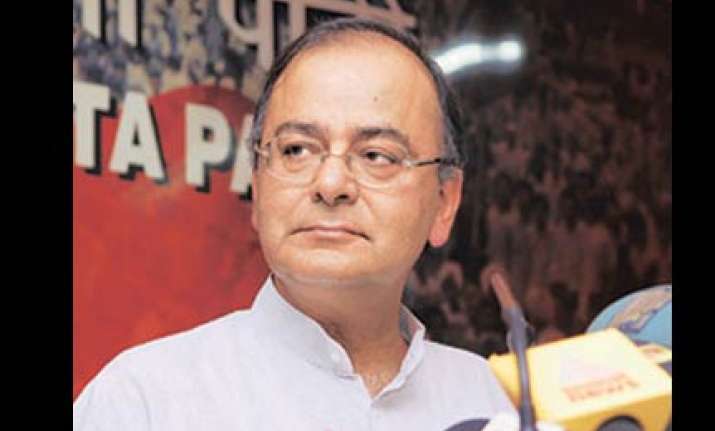 New Delhi: Opposition BJP on Tuesday created uproar in Rajya Sabha over Trinamool Congress Mamata Banerjee's rally at Lalgarh backed by Maoists and asked why Prime Minister Manmohan Singh was silent on the Railway Minister's alleged hobnobbing with Left-wing extremists.
Raising the issue during Zero Hour, Leader of Opposition Arun Jaitley said the Prime Minister has on several occasions termed the Maoists as the single greatest threat to internal security.
He said all ministers are expected to follow the government policy as collective responsibility.
"What we find today is that the principle of collective responsibility is being breached and there is a disagreement on the policy of the government," he said, adding that foremost underground Maoist leaders like Kishenji and Manoj Mahato had given a call to make yesterday's rally a success.
Jaitley said Ashish Mahato, who was said to be responsible for the Jnaneshwari Express train tragedy, was present in the rally along with several top underground leaders.
He was frequently interrupted by Trinamool Congress leader Dinesh Trivedi.
An irked Jaitley said if Trivedi, a Lok Sabha member, was speaking as a minister (MoS for Health), it was all the more worrisome because the policies of the Prime Minister and his government are being negatived by his junior minister.
Deputy Chairman K Rehman Khan also reminded Trivedi that as a member of the council of ministers, he should not disrupt Leader of the Opposition.
Noting that the Prime Minister has chosen to keep silent on various issues like Kashmir and Commonwealth Games, the BJP leader said, "Silence, at times, can be a weapon of convenience, but conspiracy of silence cannot be allowed."
The BJP members, who shouted slogans seeking the Prime Minister's response, were joined by the Left members. Dissatisfied with the response of Minister of State for Parliamentary Affairs Minister Prithviraj Chavan, the BJP members staged a walk-out.
Chavan said the Opposition parties have made a lot of "insinuations" based on newspaper reports. The government would ascertain the facts and come back to the House.
Earlier, the party did not allow the Question Hour to be taken up forcing Chairman Hamid Ansari to adjourn the House till 12 noon.
When Jaitley said he has given a notice for suspension of Question Hour, he was not allowed to speak further by Congress members.
Ansari repeatedly asked the members to resume their seats so that Jaitley could make a statement but his pleas went unheeded.
"This is very unseemly," Ansari said before adjourning the House till 1200 noon. PTI