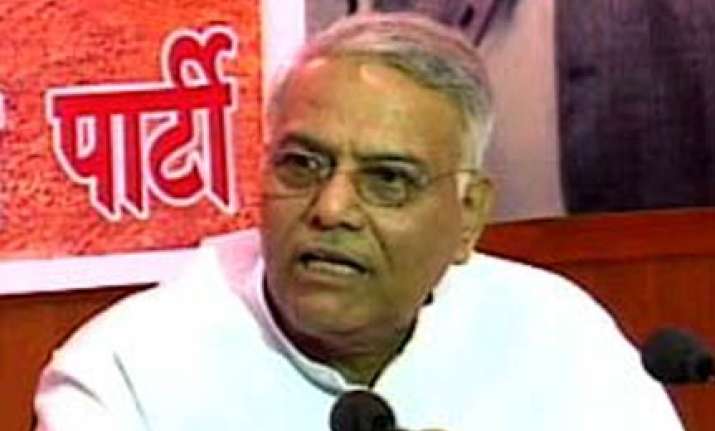 New Delhi: Opposition on Thursday  rejected Finance Minister Pranab Mukherjee's contention that high growth was responsible for rising prices and said that growth which leads to inflation was not acceptable.  
"If higher growth rate means high inflation, we don't want such a growth. We reject such a growth," former Finance Minister and BJP member Yashwant Sinha said initiating the the debate on supplementary demands for grants that sought Parliament's nod for an additional expenditure of Rs 54,588 crore during the current fiscal.  
Sinha said this in response to Mukherjee's contention yesterday that high growth rate, among other things, was also responsible for rising prices. "With high growth there has to be inflationary pressure," the Finance Minister had said.  
In his spirited address, which was interrupted by Congress members several times, Sinha quoted statistics for the past ten years to prove that there was no relationship between growth and inflation rates. He said that while growth during 2009-10 rose to 7.2 per cent from 6.7 per cent in the previous year, inflation in the same period declined to 1.6 per cent from 8.4 per cent.  
"I completely discard that theory. Nobody is going to buy that theory," he said, adding, the high government expenditure incurred in the past few years in the name of saving the economy from the global financial meltdown was responsible for spurt in prices.  
"This money (public expenditure to boost demand) went into corruption. It was not consumption expenditure but corruption expenditure," he said criticising the government for raising fiscal deficit while ignoring the targets spelt out in the Fiscal Responsibility and Budget Management (FRBM) Act. Sinha was also critical of the Mahatma Gandhi National Rural Employment Guarantee Act (MNREGA) and described the scheme as "factory of corruption."  
The MNREGA scheme is not working well anywhere, but has become a "fountainhead of corruption", he said, adding the government had allocated Rs 40,000 crore for the programme in the budget. Similarly, Sinha said, reports are appearing everyday on corruption in organising the Commonwealth Games.  
He further said that as Mukherjee, like him, was not a trained economist, he should not pay too much heed to monetary experts as their prescription could push the nation into "high inflation, high interest rate and high cost economy" syndrome.
Referring to the issue of Goods and Services Tax (GST), Sinha said, BJP was in favour of the new tax regime but Mukherjee should take states on board before moving ahead with its implementation.
The reports that Finance Minister wants veto power to decide rates of GST were disturbing, he said, adding "states cannot give them (centre) veto power because they have their own economies to manage."
Regretting that it was impossible for MPs to get even small works done in their constituencies, Sinha demanded that elected representative should be involved in planning, execution and monitoring of development projects.  
Having served the government as an IAS officer, Finance Minister and External Affairs Minister, Sinha said, it was not possible for him to get even trivial works like digging of wells, done in his constituency.  
Moreover, he added, Rs 2 crore that MPs get under MPLAD scheme was too little and even lower than what MLAs receive in various states, including Jharkhand, for taking up projects of public importance.  
As regards the supplementary demands of grants of over Rs 54,500 crore were concerned, Sinha said, finance ministry could have anticipated those expenses at the time of framing the budget proposals for the fiscal in February. This amounts to one per cent of the Gross Domestic Product (GDP), he said. PTI