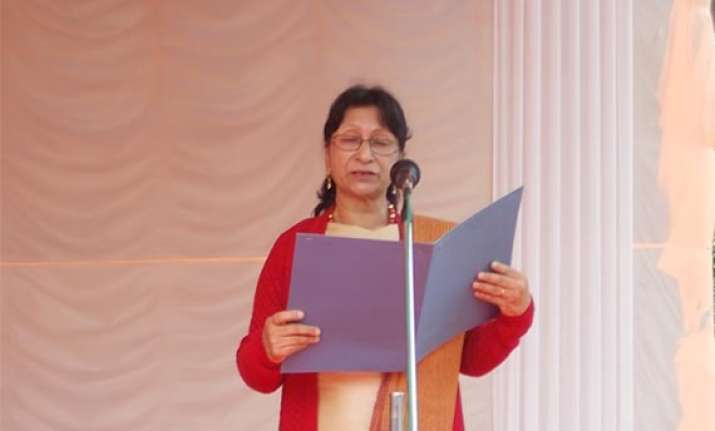 Shillong, March 13: Congress legislator Roshan Warjri scripted history by becoming the first woman to hold the crucial home portfolio in the matrilineal state of Meghalaya -- she is also the second woman in the country to hold this portfolio in a state.
Chief Minister Mukul Sangma, who allocated portfolios among his council of ministers late Tuesday night, entrusted Warjri the home (jails) department, as well as public works department (buildings).
Warjri, 63, was elected from North Shillong assembly constituency in last month's election. She is the first woman in the northeast and eastern India to hold the crucial department. She is also the second woman in India after P. Sabita Indra Reddy in Andhra Pradesh to become home minister.
A third-time legislator, Warjri is the widow of Korbar Sing Phanbuh, a legislator of the erstwhile Hill People's Union. After the demise of her husband, Warjri joined electoral politics and was elected to the assembly two times consecutively, in 1993 and 1998, on the Hill People's Union and United Democratic Party tickets, respectively.
She was first inducted as cabinet minister in the B.B. Lyngdoh ministry and held the urban affairs portfolio.
Before joining the electoral fray, Warjri was the chairperson of Meghalaya state women's commission.
However, veteran Congress leader H.D.R. Lyngdoh, who held the home and public works department (roads) in the previous Meghalaya United Alliance, has been allotted transport, general administration department, district council affairs and cooperation.
The chief minister kept to himself key portfolios - finance, planning, agriculture, commerce and industries departments, besides mining and geology.
Sangma, who was seen as the architect of the Congress's victory in the assembly elections in this mountainous northeastern state, allocated water resources, soil conservation, home (passport), law, election and administrative reforms to Deputy Chief Minister Rowel Lyngdoh, who is from the Congress.
Roytre Christopher Laloo, who was elevated as deputy chief minister, was allotted public health engineering, school education and literacy, higher and technical education, revenue and disaster management and re-organization.
Among the other ministers - all from the Congress - Deborah C. Marak, the first woman deputy chief minister of Meghalaya, was given social welfare, animal husbandry and veterinary department, printing and stationery, besides secretariat administration.
Prestone Tynsong, who retained forest and environment, has also been given a new task to look after community and rural development, border areas' development and parliamentary affairs.
Mazel Ampareen Lyngdoh, who defeated United Democratic Party heavyweight Bindo Mathew Lanong in the recently concluded assembly elections, retained urban affairs and municipal administration. She will also now look after the labour department.
Health and family welfare, information technology and information and public relations will be looked after by former Bharatiya Janata Party-turned Congress legislator Alexander Hek.
Zenith M. Sangma, the youngest brother of Chief Minister Mukul Sangma, was allotted sports and youth affairs, excise and housing, besides sericulture and weaving.
Clement Marak, who defeated Conrad K. Sangma, the youngest son of former Lok Sabha Speaker Purno A. Sangma, was given power, food, civil supplies and consumer affairs, besides arts and culture, while Sniawbhalang Dhar will look after the public works department (roads), home guards and civil defence, besides legal metrology.