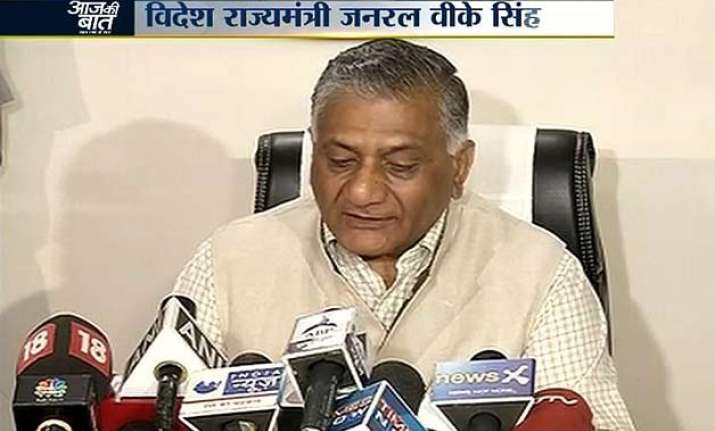 New Delhi:  Minister of State for External Affairs Gen VK Singh finally came in front of the media and clarified about his stand on the 'duty' and 'disgust' tweets and said that he has no intention of resigning from the government.(scroll down for video)
"My tweets on duty and disgust which have come under a lot of scrutiny over the past twenty fours hours has left me perplexed and shocked"."I feel that it is important to clarify that I am fully committed to my government especially my PM"said Gen VK Singh
On attending Pak National Day celebrations Singh said "There was nothing new in the event, including attendance by separatists. He further clarified "My tweets directed at only that section of media which questioned the intent of my govt and also the stance on countering Pakistan-sponsored terror"
Gen V K Singh has denied media reports that he has offered to resign from Union Council of Ministers."I have not offered to resign", V K singh said in a statement.
V K Singh's family had also refuted media reports of his resignation offer. The reports added that a high level meeting took place at 7 RCR to discuss V K Singh's resignation offer.
The meeting was reportedly attended by Prime Minister Narendra Modi, Home Minister Rajnath Singh, Foreign Minister Sushma Swaraj and Finance Minister Arun Jaitley.