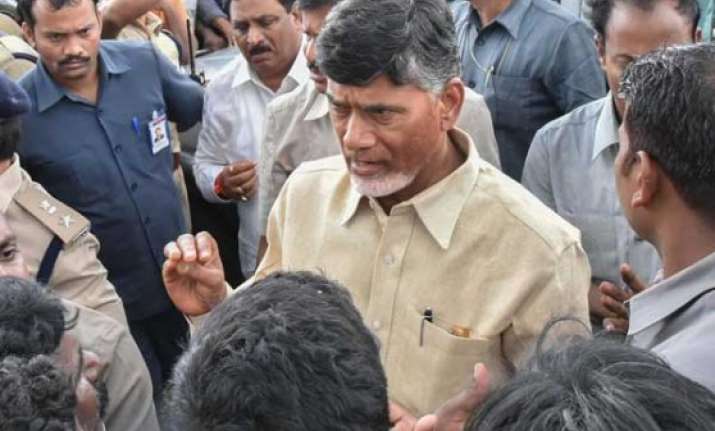 Visakhapatnam/Hyderabad: Amid concerns of cyclone Hudhud adversely affecting Visakhapatnam's growth, Andhra Pradesh Chief Minister N Chandrababu Naidu today said he is keen on developing the port city with a new vision.
"Once this (cyclone relief) is over, we are preparing new plans for Visakhapatnam. Not just planting trees. I am working on a new vision for Visakhapatnam. I am going to rope in best consultants from across the world, who handled similar cities in the world," Naidu said in the port city which suffered a huge damage in the cyclone that struck on Sunday last.
"What Prime Minister said yesterday...to help us in all ways an American delegation will come for developing a 'smart city'. I will hire the best consultants for that," Naidu added.
Visakhapatnam was among the three cities (other two being Allahabad and Ajmer) discussed for being developed as 'smart cities' with American help, during Prime Minister Narendra Modi's recent US visit.
Recalling that Modi had also talked about beautification of Visakhapatnam when he visited the port city recently, Naidu said he is working on plans for land-scaping in the city.
"I have asked for best horticulture consultants to come. When I was talking to the PM, he talked about beautification and pruning the trees (which are damaged). If we can give them (trees) treatment, we will focus on promoting greenery quickly. I am working on land-scaping with the help of some consultants," he said.
The famous horticulture nurseries in AP's East Godavari district would be roped-in for the purpose, he said.
"The biggest nursery in India is at Kadiam (in East Godavari). I am calling them. They will bring good plants. It is an opportunity for them as well to grow. We will work out all that is necessary to give a new look to Visakhapatnam. New city, new vision," he said.
Naidu said they will also approach institutions like World Bank for the development of the port city.
"We will approach World Bank or ADB to make this as a new city, a model city," he said.
The government is also talking to the PSUs in Visakhapatnam which have suffered damages so that they can start functioning soon, he said.
"We are talking to Cabinet Secretary again today. All public sector undertakings which have trouble, they must be revived, including the airport, steel plant, Navy, etc. We are talking. We will revive all these things," Naidu said.