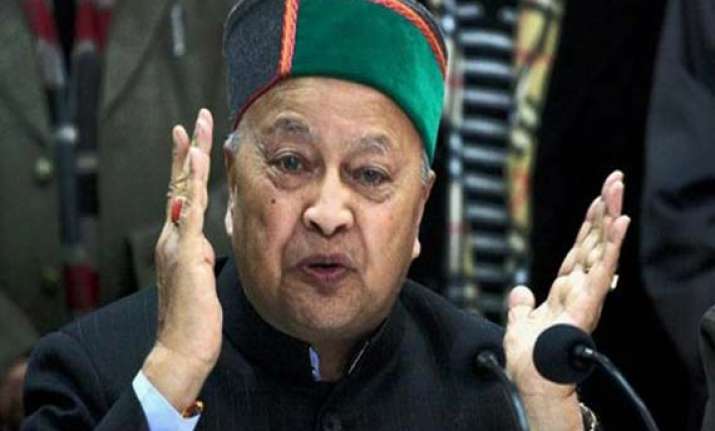 Shimla, Dec 24:  Less than 24 hours before his swearing in Himachal Pradesh chief minister for the sixth time, Congress leader Virbhadra Singh got a major reprieve as a Shimla court acquitted him and his wife Pratibha Singh in a three-and-a-half-year-old corruption case.
Special Judge B.L. Soni, while pronouncing the 21-page order, in a jam-packed court said that "the prosecution has failed to prove its case beyond reasonable doubt".
"There is no evidence of exercising personal influence by Pratibha Singh on Virbhadra Singh for getting cleared matters related to Mohan Meakin Ltd. (brewery in Solan town) and Gujarat Ambuja Ltd."
Soni said there was also no evidence of any misconduct on the part of Virbhadra Singh, who was present in the court when the judgement was delivered.
Defence counsel Shrawan Dogra told reporters that not even a single witness out of 39 examined supported the prosecution evidence.
The prosecution had filed the charge sheet against the couple in October 2010.
Virbhadra Singh and Pratibha Singh were booked by the state police Aug 3, 2009, under the Prevention of Corruption Act for alleged misuse of official position and criminal misconduct when he was the chief minister in 1989.
According to police, the couple was booked on the basis of an audio cassette released by Virbhadra Singh's once political adversary Vijai Singh Mankotia in 2007.
The cassette allegedly contained Virbhadra Singh's telephonic conversation with Indian Administrative Service officer Mohinder Lal, who is now dead.
It also contained voices of his wife and some industrialists, who have been identified by police, proposing to invest in the state.
The case was weakened after two prosecution witnesses turned hostile last month.
Witnesses P.C. Jain, a former vice president of Gujarat Ambuja Cement, and Brigadier (retd.) Kapil Mohan, managing director of Mohan Meakin, informed the court that their statements recorded by the prosecution were false.
They said they never offered or gave bribes to Virbhadra Singh and his wife.
Charges of conspiracy and corruption were framed by the court June 25, following which Virbhadra Singh had resigned as union minister.
The court had framed charges under Section 120-B of the Indian Penal Code (IPC) and Sections 7, 11 and 13 (1) (d) of the Prevention of Corruption Act against accused Virbhadra Singh and under Section 120-B of the IPC and Section 9 of the Prevention of Corruption Act against Pratibha Singh.