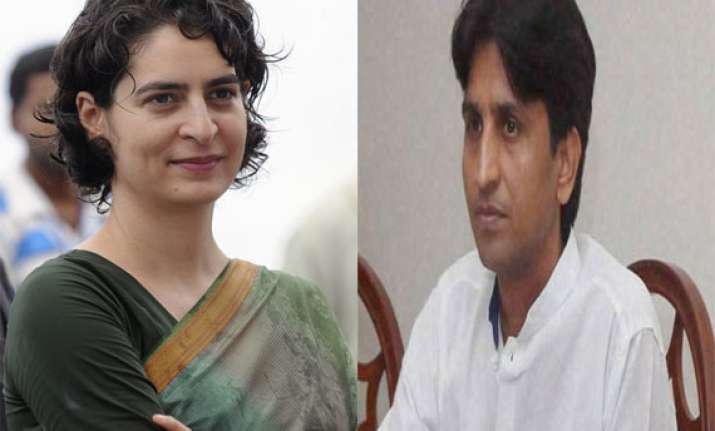 Amethi: Aam Aadmi Party workers sat on a dharna outisde the Gauriganj police station today after local police refused to file an FIR against Congress president Sonia Gandhi's daughter Priyanka Vadra on the complaint of AAP candidate Kumar Vishwas.
Kumar Vishwas alleged that on April 15 during Priyanka Gandhi's Amethi visit, a Congress worker Vinod Mishra went up to her car and said "Vishwas Rahul Bhaiya ke khilaf bol raha hai, mai usko goli maar doonga" (Vishwas is speaking against Rahul Bhaiya and I will shoot him dead).
The AAP candidate said, he submitted a video footage of Mishra speaking to Priyanka sitting in her vehicle, in the presence of SPG guards, and Priyanka asked Mishra to meet her at Gaurganj guest house. On this, Mishra told her that SPG guards were not allowing him to meet her in the guest house.
Kumar Vishwas today went to Gauriganj police station and demanded that an FIR be filed against Priyanka for abetment to conspiracy to kill him. The police officials said they would not file any FIR against "maananiya" (honourable) Priyanka ji on such a "behooda" (baseless) complaint.
Kumar Vishwas told
Rajat Sharma
's Aaj Ki Baat on Friday night that the police officer spoke to his higher-ups thrice and decided not to file FIR against Priyanka.
Late evening, however, the local police filed an FIR against the Congress worker Vinod Mishra, only after AAP activists sat on dharna at the police station.