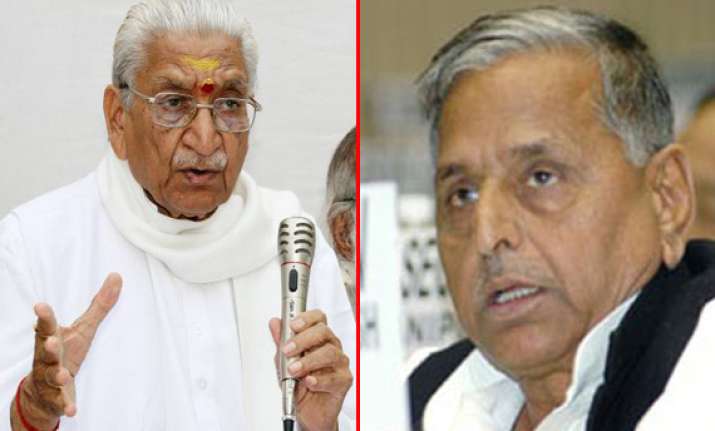 Lucknow: Coming down heavily on those terming VHP's Ayodhya yatra as "match fixing" between SP and BJP, VHP leader Ashok Singhal on Monday said it was a ridiculous remark by some "silly" people.
"Some 'behuda' (silly) people are saying the yatra is a match fixing between SP and BJP. This is totally ridiculous (behudgi).
"I am saying behuda because these people do not know anything about the culture of the country," he told reporters at the guest here before he was released by police.
Singhal and other top VHP leaders were arrested by the Uttar Pradesh administration in a massive crackdown to foil the saffron outfit's yatra which was symbolically launched in Ayodhya yesterday.
Singhal alleged the Samajwadi Party supremo was only concerned about his party's Muslim vote-bank.
"Leadership of the Muslims has been hijacked by the Samajwadi Party," he said.
Singhal said he was not given any indiction that the yatra would be banned during his meeting with Chief Minister Akhilesh Yadav and Mulayam.
He said the yatra was given exaggerated publicity.Attempts were underway to destory the Indian cultue, Singhal said adding saints were fighting against this and were being attacked.
Singhal said the administration was told that "we will take out a peaceful yatra which will require not more than 12 policemen for maintenance of law and order."
He said "Ram Bhakts" were fighting for cultural freedom. "Such people are not associated with any party, they are only Ram Bhakts."