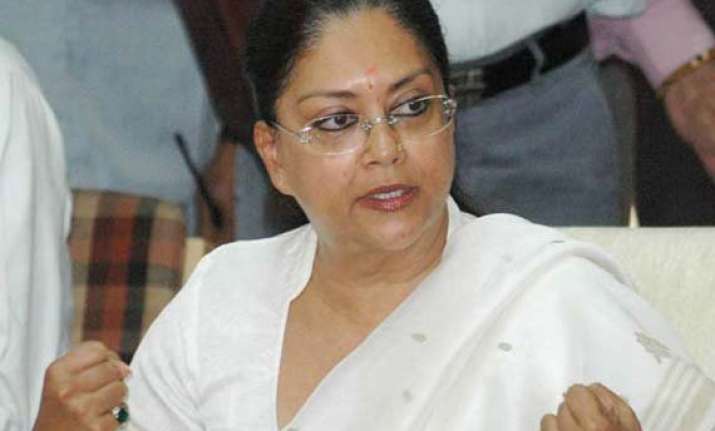 Jaipur: Rajasthan Chief Minister Vasundhara Raje has said that if "anyone" thinks that that person was responsible for the BJP's sweeping victory in the Lok Sabha elections this year and Assembly polls last year, then the person should have a "rethink", comments interpreted as a jibe at Prime Minister Narendra Modi.
"All 25 MPs (25 seats in Lok Sabha) and 163 out of 200 MLAs in the Assembly have won due to your mandate. If any person feels that this victory was due to that person, then that person needs to do a rethink," she said at a function here last night.
"You the public gave us victory. We are thankful to you", she said addressing the people.
Raje said "everybody should understand the power of the common man. Whoever are liked by people are voted. The day they decide go against you, you are finished. That is why we understand that the people are the power behind us."
Raje's remarks set off flutter in political circles about who her target was but the Chief Minister's Press Adviser said they were not related to the Centre or Prime Minister Narendra Modi. It was a local matter on the occasion of inauguration of a flyover in which she made remarks against the previous Congress government. How could they be interpreted as against somebody else, he added.
On Swachch Bharat Abhiyan, the Chief Minister said "safai (cleanliness) is not a new thing for us. We have mentioned it in our budget. Even during 2003, we had taken brooms in our hands and cleaned roads outside Albert Hall in Jaipur".
"Our cleanliness drive will continue till 2018 in the state and latrines would also be built in rural areas on top priority", she said.
"We all should always clean houses and outside places, it would be our mission till 2018", she told the public.
Reacting to Raje's speech, state Congress spokesperson Archna Sharma said it appeared that Modi and Raje's political equations were under stress and that was why she spoke indirectly against Modi in a public meeting.