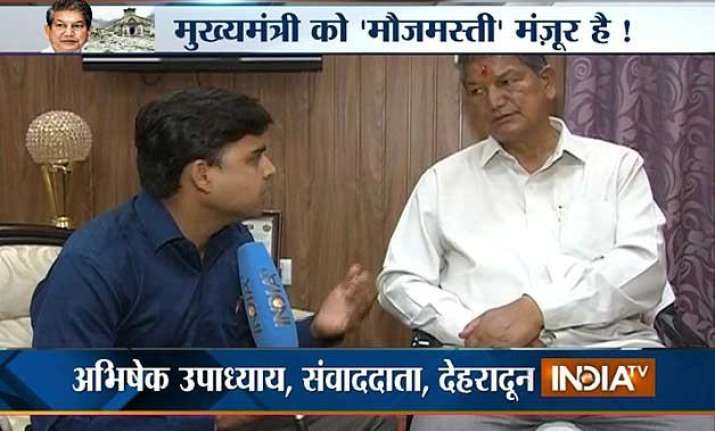 New Delhi: Uttarakhand Chief Minister Harish Rawat today strongly defended the corrupt officials who were having good time when lakhs of people in flood-ravaged state went hungry during the 2013 disaster.
While speaking to India TV, Rawat justified the claims made by the officials involved in the rescue and relief works. He said, "How can one can control one's food habits. There is no major measurement in this... and India TV should not be worried about this."
He also ruled out CBI probe into the matter saying 'he does not believe that any corruption has taken place in the first place'.
An RTI reply has revealed scam in the allowance claims made by the officials of the state government involved in the rescue and relief works during 2013 disaster.
Clarifying on the extravagant bills on fooding, the CM further said, "At the moment of crisis, it was not possible for the state government to keep a tab on such small things. All the officials were staying in an ITBP camp and it is the responsibility of ITBP to look into this."
He, however, said that the he has asked the Chief Secretary to initiate an enquiry and take action against the erring officials.
The scam surfaced during the hearing carried out by State Information Commissioner Anil Sharma where a RTI petitioner submitted documents showing massive irregularities. The documents indicated that officials relished choicest of cuisine even as people were suffering.
Through the RTI replies, several glaring examples of forged and inflated bills had come to the light which showed officials billed the exchequer Rs 194 for half a litre milk, enjoyed stay in hotels which were over Rs 7000 per day, relished mutton, chicken, cottage cheese and gulab jamuns.
The officials allegedly distributed relief funds twice to same persons, purchased 1,800 rain coats from same shop for three consecutive days, submitted fuel bills indicating that diesel was purchased for scooter and motorcycles which were camouflaged as four wheelers.
In a 12-page order, passed after hearing complainant Bhupendra Kumar of National Action Forum for Social Justice, Sharma has taken note of bills provided by various districts in response to RTI queries seeking to know details of funds spent on relief work in the aftermath of the tragedy that claimed 3,000 lives, with many still missing.