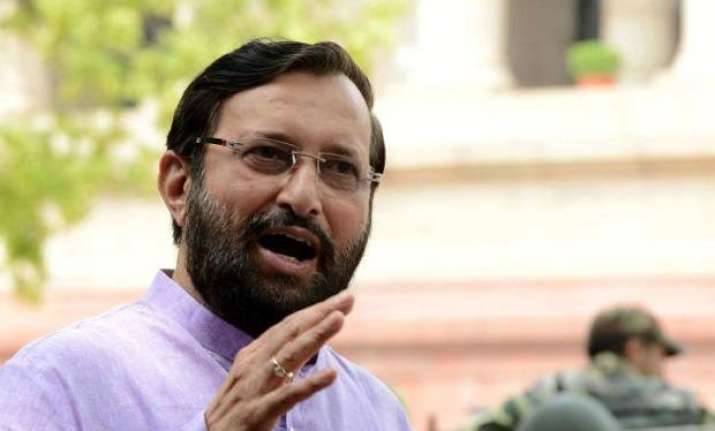 New Delhi:  Union minister Prakash Javadekar and a BJD member today jointly attacked the erstwhile UPA government for turning the Environment Ministry into a "road block" ministry, while referring to a letter by then minister Jayanthi Natarajan alleging interference by the office of Congressleader Rahul Gandhi. 
BJD member Pinaki Mishra, while raising the issue of depleting forest cover in the country during Question Hourin Lok Sabha, alleged that during the stint of the previous Environment Minister, "touts" in the ministry used to seek bribes for clearing projects. 
He alleged that due to this, foreign direct investments worth crores of rupees were stopped while pointing to the proposed project by Korean major Posco. 
He also praised Javadekar, saying the new minister has brought "fresh air" in the ministry. 
Supporting Mishra, Javadekar referred to a letter reportedly written by the then Environment Minister to the Congress chief. 
Naming Natarajan, he said she had mentioned how projects were stalled and how requests were sent from the office of the Congress Vice President. 
At this, several members from BJP thumped their desks in support of Javadekar's statement. Congress President Sonia Gandhi was seen talking to party leader Mallikarjun Kharge apparently referring to Javadekar's remarks. 
Kharge stood up asking Speaker Sumitra Mahajan how she could allow the name of a former minister not present in the House being taken. 
Rahul Gandhi was present in the House and was seen speaking to some opposition members in the aisle. 
Referring to Posco, he said the Environment Ministry was converted into a "road block ministry". 
Javadekar also said crores of rupees worth of funds meant for afforestation were lying in bank accounts and not transferred to states. The minister hoped that the proposed compensatory afforestation fund management and planning authority (CAMPA) would improve the situation. 
Referring to concerns of the corporate sector as well as environment activists, he said development and environment can go together and his ministry was striving for the same.