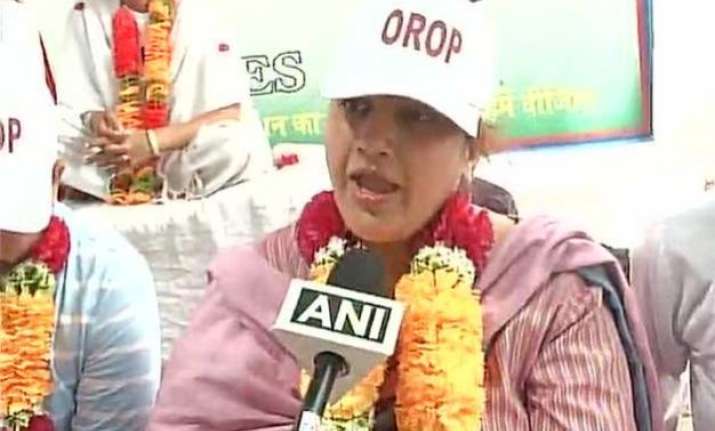 Ministry of External Affairs ( MOS) and former army chief V. K Singh's daughter today joined the protest against delay in implementation of One Rank One Pension scheme at Jantar Mantar in Delhi and urged the government for a speedy resolution.
"I am there to support the cause of Ex servicemen because I am an Ex servicemen's daughter.I feel that OROP should be implemented as soon as possible, "Mrinalini Singh told reporters.
"Even my grandfather was a soldier and may be my son would also become one. I hope the government will soon heed to this demand. It's a long over due and I did take up the issue with my father. He has written a letter to the Prime Minister." she said.
The protest over the delay in the implementation of the One Rank One Pension scheme has reached its 70th day on Sunday, with three veterans observing an indefinite fast for nearly a week.
Since June 12, ex-servicemen, war widows and their families are protesting at Jantar Mantar in Delhi over the delay in the implementation of the scheme.
Over 2.5 million strong ex-servicemen and war widows community has been demanding One Rank One Pension for almost four decades. It was being speculated that Modi will make an announcement on the scheme in his speech on Independence Day but he only reinstated his commitment and said that the demand will be fulfilled as soon as the technical nitty gritty is resolved.