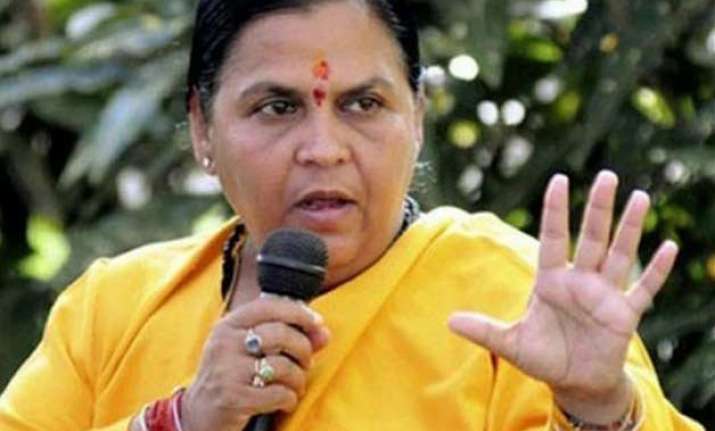 New Delhi: Madhya Pradesh Chief Minister Shivraj Singh Chouhan, who is in the eye of storm over the Vyapam scam, today found strong backing in Union minister Uma Bharti who said there was no reason for him to resign and that he was running the government better than her.
Bharti, who had created a flutter recently with her reported remarks that she felt "scared" over reports of deaths of people associated with the scam, said she was "fully" with Chouhan on the issue.
Bharti, a former Madhya Pradesh Chief Minister, had later denied making the statement that she feared for her life or was scared.
"Shivrajji is not involved in corruption. Why should he resign? I am fully with Shivrajji and will rather say that he is running the state government better than me. He has more patience than me," she told Rajat Sharma in 'Aap ki Adalat' on India TV, according to a release from the channel.
The Union Minister of Water Resources, River Development and Ganga Rejuvenation said she had no ambition of becoming the state's chief minister again.
Asked about BJP leader Arun Shourie's remark that the 'trimurti' of Prime Minister Narendra Modi, BJP chief Amit Shah and Finance Minister Arun Jaitley were running both the party and the government, she said all three leaders were held in high regards even by their rivals.
"If this trimurti will not run (government and party), then who will run? This trimurti must continue. I would rather say, they are Brahma, Vishnu and Mahesh," Bharti said.
Known as a firebrand leader, Bharti said she had now mellowed down after being given the task of Ganga rejuvenation and became 'waterbrand'. "Earlier, I was a firebrand, but now I have become a waterbrand," she said.
Praising Prime Minister Modi, she said he had brought discipline not only among party leaders and ministers but also bureaucrats. "Those who are not in the habit of following discipline, they then start fearing," she said.