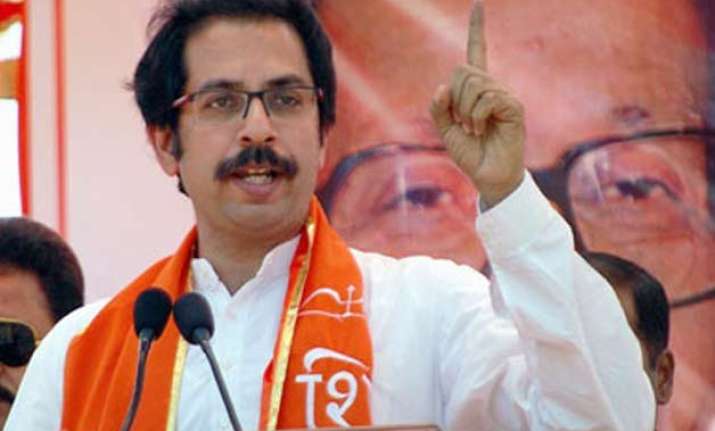 Mumbai: Shiv Sena Chief Uddhav Thackeray on Tuesday felicitated six party members who carried out an attack on Sudheendra Kulkarni and blackened his face yesterday in Mumbai.
According to media reports, Thackeray met workers at his residence 'Matoshree' in suburban Bandra
Six Sena workers were released today on bail a day after being arrested for throwing ink on Kulkarni. Former BJP leader Kulkarni was the organiser of former Pakistan foreign minister Khurshid Mahmud Kasuri's book launch.
Unperturbed by the attack and protest by Sena, Kulkarni went ahead with the launch of the book. Kasuri's book "Neither a Hawk nor a Dove: An Insider's Account of Pakistan's Foreign Policy" was launched at Mumbai's Nehru Centre yesterday evening amid heavy security.
Shiv Sena called Kulkarni a "Pakistani agent" for hosting Kasuri. Reacting to the allegations, Kulkarni described himself as an "agent of peace" and not a "Pakistani agent" and asked the saffron party to respect other people's freedom of expression.
 "I have been labelled a Pakistani agent in Sena mouthpiece 'Saamana'. I respect their freedom of expression. They should also respect others' freedom of expression," Kulkarni said at a press conference here.
 "When it is said I am a Pakistani agent, I say yes, I am an agent but an agent of peace and will continue to be one," he said.
Asked about the arrest of six persons who allegedly smeared his face black yesterday for organising Kasuri's book launch here, he said, "I am not concerned about their arrest and bail. I have faith in our judiciary."
"Ours is a democracy. Freedom of thought and speech is a fundamental thing," Kulkarni said.
"ORF is a non-political organisation. I don't want to comment on Sena-BJP ties," he said.
To a question on the performance of Prime Minister Narendra Modi, Kulkarni, who has served as speech writer for BJP veterans Atal Bihari Vajpayee and L K Advani, said "From the day he assumed office, Prime Minister Narendra Modi has begun efforts to usher in a new beginning in south Asia."
Both the sides (India and Pakistan) want the dialogue to go ahead, he said.
"I am happy that the people of Mumbai appreciated our efforts," Kulkarni said, and thanked those who attended the book launch in large numbers despite the Sena threat to disrupt the event.
Meanwhile, reacting to Chief Minister Devendra Fadnavis' criticism of blackening of Kulkarni's face, Sena leader Sanjay Raut today said "CM Fadnavis has not understood Maharashtra. In fact, the state has been defamed due to his statement."
(With inputs from agencies)