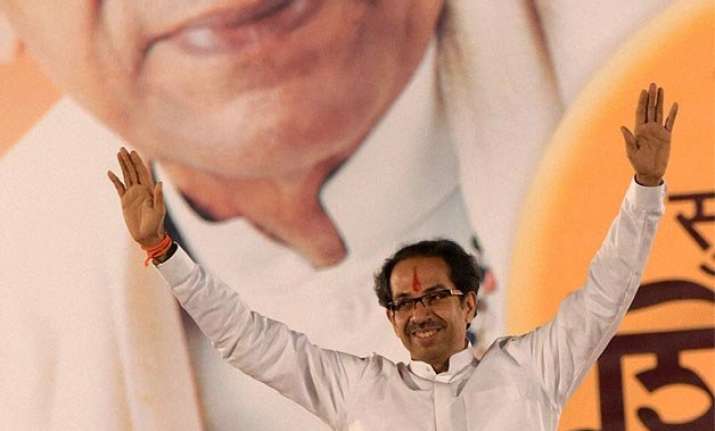 Mumbai: Breaking his silence over his party's strained ties with BJP, Shiv Sena president Uddhav Thackeray today attacked the coalition partner on issues like Pakistan, beef, Ram temple and inflation but ruled out walking out of the Maharashtra government any time soon.  
He also said that the Dadri lynching incident brought shame to the country, and not Sena's campaign against cultural or sporting ties with Pakistan.
"If you can get along with (Jammu and Kashmir Chief Minister) Mufti Mohammad Sayeed, then you should also listen to Shiv Sena," Uddhav said, addressing the Sena's traditional Dussehra rally at Shivaji Park in Dadar here this evening.  
Referring to speculation of Sena parting ways with BJP, which has criticised it over the Shahryar Khan and Sudheendra Kulkarni incidents, he said, "We know for how long to remain in power. Allow us to work, now that we are in power." Ridiculing BJP on the Ayodhya issue, he said, "We have been hearing: "Mandir wahin banayenge... Lekin tareekh nahi batayenge (we have been hearing that temple will be built, but not when it will be built)."
Voicing a strong Hindu agenda of the Sena, Uddhav said, "If Hindu is going to be finished, will this country survive?"Declare this country as Hindu Rashtra and implement common civil code, instead of searching in people's homes for beef," he said in a reference to the lynching of a 50-year-old man in Dadri in Uttar Pradesh over beef eating rumours.  
The country's image was maligned because of the Dadri lynching incident and not because of the ink attack on Kulkarni, he said, referring to Sena's protest against the launch function of the book penned by former Pakistan foreign minister Khurshid Kasuri in Mumbai.  "If you have the courage, then enter Pakistan," he said, claiming that Pakistan was keeping tabs on the Sena rally.
"Why speak on cow (beef), instead speak on inflation," the Sena president said. "Why is it not possible to control prices of essential commodities? A government that can't stop price rise is useless.
"If governments can fall on the issue of onion prices, one can't say what will happen over rising inflation," he warned, against the backdrop of skyrocketing prices of pulses.
"First give protection to dal (rising prices) and then to Pakistan," Uddhav said, adding, "why should it cause stomach ache for BJP if we speak against Pakistan." On Sena's opposition to Ghulam Ali's scheduled concert in Mumbai, he said, "I told organisers that I like songs of Jagjit Singh and Ghulam Ali.
However, I also reminded them about killing of Indian soldiers by Pakistan." On the Sena workers' ink attack on former BJP ideologue Kulkarni for hosting Kasuri, he said, "We applied ink to the red monkey."
Uddhav also criticised Union ministers V K Singh over his remark on the killing of Dalit children and Kiren Rijiju for his comment on north Indians.
"Our Hindutva entails calling Param Veer Chakra awardee Abdul Hameed a hero, a soldier, a son of the soil who saved Kashmir from Pakistani Army," he said.  MIM leader Owaisi bowed his head at Aurangzeb's burial place, Uddhav said, adding "I am ready to bow my head at the 'kabr' of Abdul Hameed."
"We won't leave Marathi manoos and Hindutva at any cost," he said, and recalled that the then President Zail Singh had thanked the late Bal Thackeray for protecting Sikhs in Mumbai and Maharashtra when anti-Sikh riots broke out in 1984.  "Balasaheb also protected Kashmiri Pandits and Amarnath pilgrims," Uddhav said.
"Let me know now if you agree to my continuing in the post of Sena chief. I will step down if you say so," Uddhav said, putting the question to the crowd.  Aurangzeb Road in Delhi was named after APJ Abdul Kalam, similarly Aurangabad in Maharashtra should be renamed as Sambhajinagar, he said.
Uddhav also paid tributes to Veer Savarkar, and asked, "Did any Congressman suffer for freedom like him." Savarkar should get Bharat Ratna, he demanded.  "Those who objected to death penalty for Yakub Memon committed contempt of court," he said.  
He expressed disgust over prolonged incarceration of Lt Col Prasad Purohit and Sadhvi Pragya Singh Thakur in the 2008 Malegaon blast case, saying "Hang them if they are guilty, but prove their guilt first."
He also said killers of Govind Pansare and Narendra Dabholkar should be hanged if they are guilty "but first prove charges against them".
On NCP chief Sharad Pawar's statement that the Sena of yore doesn't exist now, Uddhav said, "Pawar, who appeased Sonia Gandhi for 15 years, should not teach us self respect."