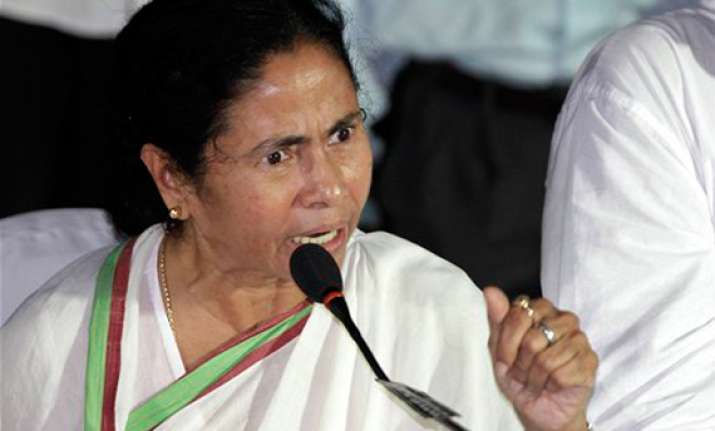 New Delhi, Nov 22: An attempt by former UPA ally Trinamool Congress to bring a no-confidence motion against the government over FDI in retail failed today in the Lok Sabha for want of requisite numbers.
Mamata Banerjee's party moved the motion as soon as Parliament met for the Winter Session but Speaker Meira Kumar disallowed it as it could not muster the required support of 50 members.
The motion, first in the current Lok Sabha, was moved by Trinamool Congress Parliamentary Party leader Sudip Bandopadhyay and was supported by BJD.
However, it lacked the support of the required 50 members as only TMC's 18 members and BJD's three members supported.
Moving the motion, Bandopadhyay said, "This House expresses want of confidence in the Council of Ministers over its decision to allow 51 per cent FDI in multi-brand retail as it is going to harm millions of small businesses."
The Speaker asked all those supporting the motion to stand up.
Amidst chants of "shame shame" from Congress benches, TMC members stood up and there was a verbal clash too.
On seeing the lack of adequate support, the Speaker said, "The motion does not have the leave of the House."
The Lok Sabha witnessed two adjournments including one when Trinamool Congress members stormed the well.
After Trinamool's no confidence motion failed, the Leader of the Opposition Sushma Swaraj pressed for a discussion on the FDI in retail issue under rule 184 which entails voting.
The senior BJP leader contended that discussion under a rule which entails voting was necessary as the government has committed "gross insult" of Parliament by not keeping its word on consulting all stakeholders including political parties before taking the decision on FDI.
She said the government has shown contempt for the assurances given by then Finance Minister Pranab Mukherjee who is now the President of India.
Swaraj said a vote on the issue would show that people of the country were against the move which would affect small traders.
Earlier, the Speaker said that she has got a notice of adjournment motion on the FDI issue from SP member Shailendra Kumar and the same was under her consideration.