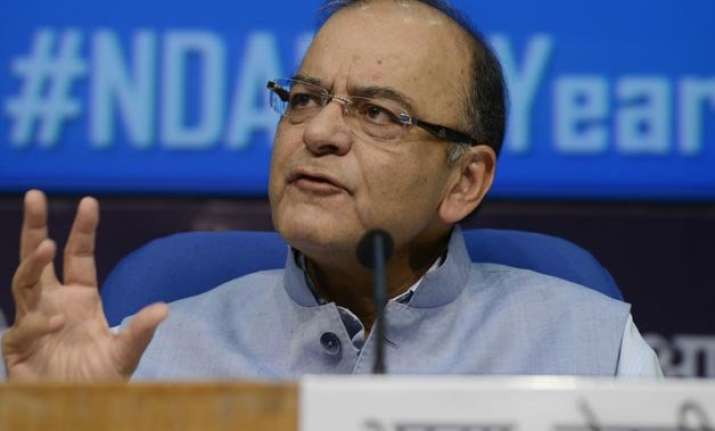 New Delhi: Union Finance Minister Arun Jaitley on Friday said that Narendra Modi led NDA government has given corruption free administration in last one year.
Here are the top 10 achievements of Narendra Modi led NDA government in last 1 year:

1) Foreign policy: Arun JAiltley said "Not only in India, but in the entire world, respect for India and PM Modi has gone up.  In the first one year PM Modi  visited 18 nations and interacted with world leaders, due to which India's image has improved and now occupies a pre-eminent place in the global stage.
2) On government functioning: The present government has successfully brought changes and established a transparent model for reforms. 
The previous environment of gloom has been replaced by a climate of enthusiasm. Decisiveness even in the face of obstructionism has been an important hallmark of the Modi led government.
3) On Policy regarding taxation: Finance Minister also said that "India should have a tax on company profits that is more consistently applied than it is now and should bring down its effective rate to global levels.  "I hope the Rajya Sabha would soon pass an enabling amendment that would make it possible to implement a new goods and services tax next April that would unify Asia's No.3 economy into a common market."
4) On Federalism: Arun Jaitley said "A very important highlight of the government has been to give a corruption-free administration to this country. " NITI Aayog has been constituted as an important pillar of the government's initiative to strengthen federalism. Revenue realized through coal auctions shall go to states, an example of cooperative federalism.
5) On Black Money: "The abuse of investigative agencies is now a thing of the past. Will continue to squeeze black money generation by passing more legislation in coming year."
6) On Savings: "India is an unpensioned society. Government schemes will improve upon the current pension cover of 11%. MUDRA Bank will bring finance to 5.7 crore small entrepreneurs." Social Security schemes like Atal Pension Yojana(APY) is going to strengthened the social fabric of Indian society.
7) On infrastructure: Modi government has already started Resumption of work on 16 stalled projects planned for coming year. Government has decided to increase public investment in agriculture (specifically irrigation) and rural infrastructure.
8) On Banking sector: "Banking sector was under a lot of pressure due to the global slowdown. Appointments of executives and board members of banks have been professionalized. The new insurance schemes launched by the government have reached 7.5 crore people in a few weeks. The insurance schemes will bring the benefits of insurance to the common man."
9) On Fiscal Deficit: We have improved the fiscal deficit target. Infact we have overachieved the target. Current account deficit, foreign exchange reserve, growth reserves, and the recent revenue figures which have come, show a lot of improvement.
10) On Governance: Good governance always has to be blended with clever politics and we are conscious of it. Our party has been extremely conscious in forging alliance and formulating policies. But I think Investors are cleverer than you and me. He looks at all the prospects before investing.