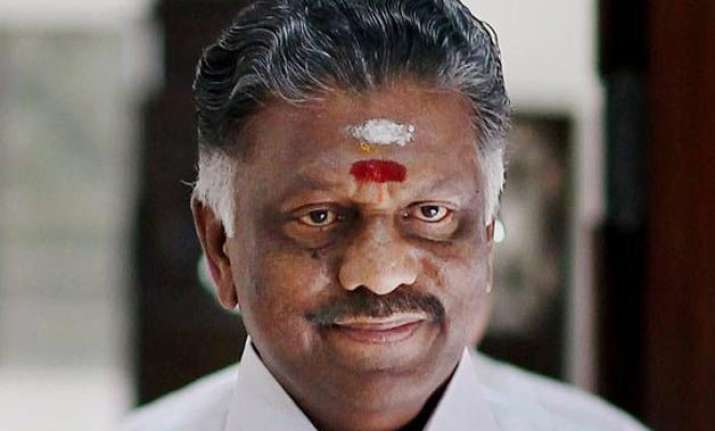 Chennai: Tamil Nadu Chief Minister O Panneerselvam urged Prime Minister Narendra Modi allocate the state a sizeable amount for the schemes approved by the NITI Aayog, to ensure the 'unfair' treatment by the 14th Finance Commission is in part redressed.
"I strongly urge you to ensure that the unfair treatment meted out to Tamil Nadu by the Fourteenth Finance Commission is at least in part redressed by a sizeable allocation to the State out of the funds set apart for schemes to be approved by the NITI Aayog," he said in a letter to Modi.
Stating that Tamil Nadu has a "ready shelf of large schemes," he said such plans could be funded out of this allocation.
The schemes include encouraging deep sea fishing like replacing trawlers with tuna long-liners, desalination projects, including near Chennai city and viability gap funding for the Chennai Monorail Project.
"I request you to issue necessary directions to NITI Aayog to consider funding such specific projects from Tamil Nadu from their special allocation", he noted.
As against 4.969 per cent share in the divisible pool of central taxes recommended by 13th Finance Commission, Tamil Nadu's share had come down to 4.023 per cent in the 14th Commission's recommendations, he pointed out.
"The unbalanced formula adopted by the 14th Commission has virtually singled out Tamil Nadu for the most adverse treatment."
The reduction in the inter-se share of Tamil Nadu of 19.14 per cent represents the biggest loss in share amongst all States, the CM said.
"Other similarly placed States with higher than average per capita GSDP have gained from the increase in the weight to the area criterion, the introduction of the demographic change and forest area criteria, while poorer states have gained from the Income Distance criterion."