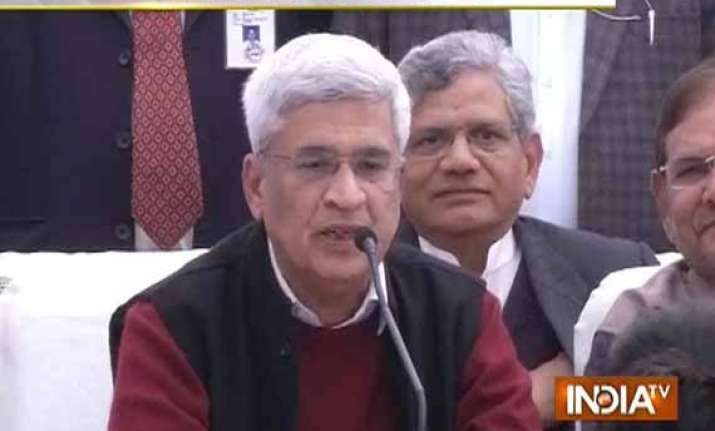 New Delhi: Eleven non-Congress, non-BJP and Left parties today issued  a joint declaration vowing to defeat the Congress in the forthcoming LS polls, and to stop BJP and its leader Narendra Modi from coming to power.
At the end of a four-hour-long meeting at Tripura Bhavan, the leaders, including Prakash Karat of CPI(M), Mulayam Singh Yadav of Samajwadi Party, and Sharad Yadav of Janata Dal (United), said the question of who will be the prime ministerial candidate will be decided after the elections.
Present at the joint press conference were two major Prime Ministerial aspirants, Mulayam Singh Yadav and Nitish Kumar, chief ministers of UP and Bihar respectively.
Asked whether JD(U), which was till recently an ally of BJP, would return to NDA, if the BJP agreed to a prime minister other than Modi, Nitish Kumar replied: "As far as restoring links with BJP is concerned, there is no possibility now".
Sharad Yadav added to say that there were never any quarrels over selecting prime ministers in the past, whether it was H D Deve Gowda or Gujarat. He also added the names of Morarji Desai and Charan Singh for good measure.
Asked about seat adjustments in the seats, Prakash Karat said: "We are not going into it at the moment. Every party in their own areas in respective states will decide to ensure maximum seats irrespective of alliances in the states".
SP supremo Mulayam Singh Yadav said: "As of now, there are 11 parties, and we hope more parties will join us and a common programme will be chalked out. The leader will be elected after the elections."
CPI-M leader Prakash Karat said, Asom Gana Parishad chief Prafulla Mahanta could not attend today's meeting as his mother was seriously ill, while Odisha chief minister and Biju Janata Dal chief Naveen Patnaik said, he was unable to attend because of prior engagements in his state.
The joint declaration refers to unprecedented pricerise, corruption, distress of farmers, loss of economic growth that have taken place during five years of UPA-2 rule.
"It's a time for change and throw out the Congress. As far as BJP is concerned, it's policies are no different from those of the congress and their record in states ruled by BJP show they are the twins of the Congress and the other side of the same coin. "
It may be recalled that in the 2009 Lok Sabha elections, the Left and several non-Congress and non-BJP parties had projected Mayawati as the prime ministerial candidate, but the experiment failed badly at the hustings. BSP is no more part of the Third Front, with perennial foe Samajwadi Party in.
Today's meeting was attended by leaders of Janata Dal (United), Janata Dal (Secular), Samajwadi Party, CPI(M), CPI, AiADMK, Forward Bloc, RSP, and several other small parties.