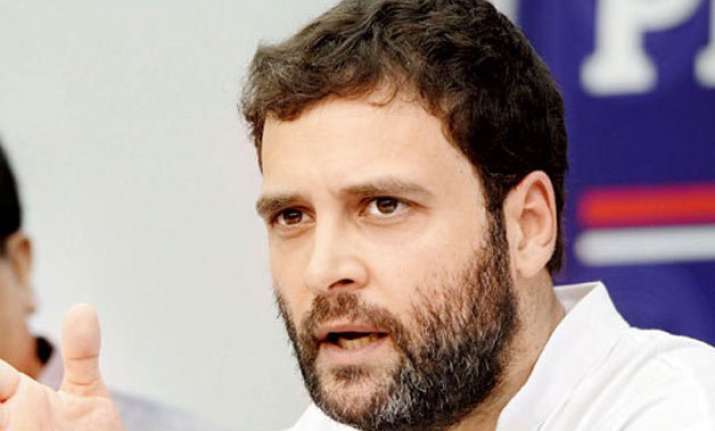 New Delhi:  BJP's Subrmanian Swamy and Congress' Rahul Gandhi today came out in unison to assail the criminal defamation law before the Supreme Court which said that lodging of cases for political speech and debates under the controversial provisions should be avoided.  
"Political debates may not come under the definition of criminal offence for defamation," a bench comprising Justices Dipak Misra and Prafulla C Pant observed while hearing a batch of petitions challenging the constitutional validity of section 499 and 500 of the IPC which deals with criminal defamation.
Swamy and Gandhi advanced their arguments on the issue by saying that the two provisions have an "inhibitive effect" on freedom of speech and expression, particularly political speech, rather they operate for the protection of reputation.
The two leaders, who have been charged with criminal defamation under section 499 and 500 of the IPC for their political speeches in Tamil Nadu and Maharashtra, contended that the colonial law enacted in the 19th century has become "unreasonable and arbitrary" in independent India and was continuing without debate or a test on its constitutionality.  
Along with them, Delhi Chief Minister and Aam Admi Party leader Arvind Kejriwal, who is facing cases under the same provisions lodged by BJP's Nitin Gadkari and others, has also challenged them and sought de-criminalisation of defamation law.
Their stand that defamation be treated as a "civil wrong" has been opposed by the Centre which has advocated retaining sectiond 499 and 500 in the IPC, saying that criminal defamation will work as deterrent against growing tendency to defame people through social media.
Leading the arguments against the Centre's stand, Swamy said the two sections have been used as a tool by the state to settle political scores and referred his case lodged by Tamil Nadu Government to "harrass" him.
He said Chief Minister J Jayalalithaa herself did not file a case but the state was allegedly used to lodge the FIR.  
"Jayalalithaa should have been in the witness box for cross-examination but here the state took the case," he said, elaborating that the criminal defamation case against him was lodged for his statement in which he referred the names of the AIADMK chief, her close associate Sasikala and others including DMK's T R Balu in connection with fishing boats.
Taking note of Swamy's submission, the bench told the counsel for Tamil Nadu that "prima facie, we find that if this will amount to defamation, I say these (section 499 and 500 of IPC) is not meant for it".
While senior advocate P P Rao, on behalf of Congress Vice President, was advancing arguments similar to Swamy's, the bench remarked that "political debates may not come under the definition of criminal offence".
Rao, on behalf of Gandhi, submitted that "it would be unreasonable to make speeches made by leaders during election while canvassing for candidates of their respective polictical parties, a crime punishable with imprisonment which affects the voters' right to know the views of the leaders on matters of public interest".
He submitted that the Constitution recognised the importance of freedom of speech in Parliament and state legislature vide Article 105(1) and (2) and Article 194(1) and (2) which grant immunity from legal proceedings.
Both leaders in their propositions harped on the concept of truth as a complete defence in criminal defamation.
"Truth is not a complete defence in criminal defamation. For a nation with a national motto of Satyameva Devata it is ironic. It was for colonial convenience to require [First Exception to Section 499] that it is defamation even if the imputation is the truth unless it is for the 'public good' to disclose the truth. This colonial convenience continues even today in a free India," Swamy submitted.
This view was shared by Rao, who said truth was always for the public good.
However, the accused who has spoken the truth is also subjected to the harassment of summons, obtaining bail or otherwise suffering arrest or detention, attending all
hearings of the case, engaging a lawyer involving considerable expenditure and made to wait for the trial to proceed to the stage of defence evidence.
"And ultimately acquitted after proof of truth, is wholly irrational, unjust, unfair and arbitrary prohibited by Articles 14, 19 and 21," he submitted.