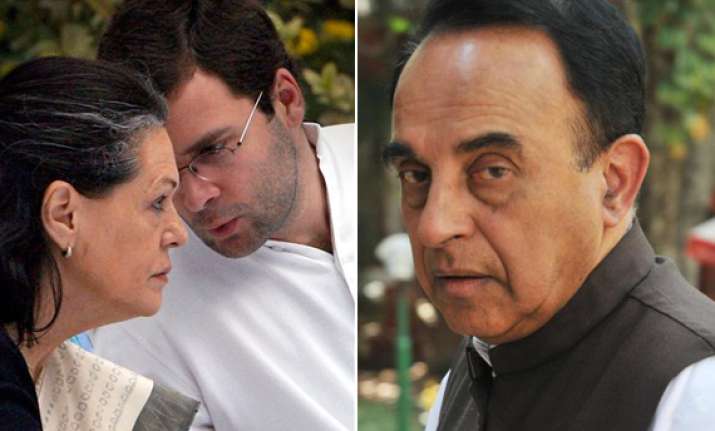 New Delhi, Nov 3: Janata Party chief Subramanian Swamy today moved the Election Commission to derecognise Congress, alleging the party violated laws by providing a Rs 90 crore loan to a company that published the now-defunct National Herald newspaper.
The Congress on its part adopted a combative approach over the controversy on The Associated Journals issue, saying it has discharged its "political dharma" and that it was ready to contest any challenge in any fora for giving loan to support the newspaper.
BJP hoped the EC will take cognisance of Swamy's plea and also refused to buy the Congress argument that the loan was paid to propagate its ideology, alleging the deal appears to have been done more for the real estate value involved and "inadvertent" money laundering.
In a letter to Election Commission, Swamy said Congress has "prima facie" committed an offence under electoral law as well as Income Tax law for which it is necessary to hold hearings and decide on derecognising the party.
His petition to the Commission comes as a follow up to his charges against Congress President
Sonia Gandhi
and
Rahul Gandhi
over acquisition of Associated Journals that published the newspaper to which Congress gave a loan of over Rs 90 crore.
He had said Associated Journals obtained an unsecured loan of over Rs 90 crore from AICC which he claimed was illegal under Income Tax Act because a political party cannot give loans for commercial purposes.
"The written admission by senior Congress leader and spokesperson Janardhan Dwivedi in his press release dated November two admitted that Congress has loaned (a sum of more than Rs 90 crores) to a company incorporated under Section 3 of Companies Act, 1956 by name Associated Journals Pvt Ltd.
"This loan is in violation of the Guidelines and Rules that has to be mandatorily followed by political parties for registration as well as recognition. Section 29A to C of RPA and Section 13A of IT Act do not make any provision for any political party to extend loans to companies with or without interest," Swamy said in the letter.
Activist Arvind Kejriwal also demanded a probe into issues raised by Swamy on the Herald issue.
Swamy said the intention of Parliament by framing such provisions was to prohibit parties from giving loans.
Rules and Guidelines also make it mandatory that no political party shall utilise its right to receive donations to extend loans to commercial ventures whether the loan is with or without interest and every party must use funds for its political activity only, he said.
Swamy also cited cancellation of tax exemptions to BCCI, registered as a charitable institution, and imposing a severe fine for the offence of extending a loan to Indian Premier League (
IPL
).
AICC General Secretary Janardan Dwivedi launched a hard-hitting offensive against Swamy and BJP for carrying out a "propaganda of lie" and "distorting" facts.
Seeking to rebut the allegations point by point, Dwivedi told reporters, "how can there be a commerical purpose as alleged when no interest was charged for the loan?"
Responding to BJP leader
Arun Jaitley
's contention that a political party can use its funds only for political purposes and not any business or financial activity, Dwivedi asserted that "who will decide what political work for any party?"
"We will decide what is political work for us and not any other party. BJP will not be allowed to decide what is political work for us. For some parties spreading rumour and unrest is political work.
"To promote the Gandhi-Nehru thought is political work and to encourage the people, organizations and instruments working for the cause. We have discharged our political dharma because Associated Journals has worked to promote the Gandhi-Nehru thought," the Congress leader said.
BJP leader Balbir Punj hoped that the Election Commission will take cognisance of Swamy's petition.
The opposition party also maintained that name-dropping of Jawaharlal Nehru and Mahatma Gandhi cannot justify a wrongdoing. It also emphasised that political parties cannot lend money to commercial entities.
"This act appears to have been done far more for its real estate value. Parties cannot inadvertently become a conduit for money laundering," BJP spokesman
Nirmala Sitharaman
said.