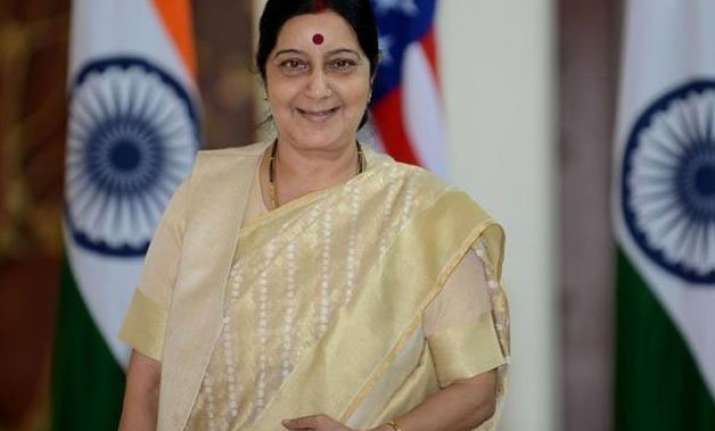 New Delhi: External Affairs Minister Sushma Swaraj would be interacting with her counterparts from South Africa and Brazil during a meeting of the IBSA trilateral ministerial council on March 31.
Sushma Swaraj, who is also travelling to Tanzania, will be co-chairing the India-South Africa joint commission too during her March 29-31 South Africa visit.
She will be in Tanzania from March 28-29, being the first Indian foreign minister to visit the east African country since 2003.
In Johannesburg, Sushma Swaraj will meet her South African counterpart, Maite Nkoana-Mashabane and Brazilian Foreign Minister Mauro Vieira at the 8th India-Brazil-South Africa Trilateral Ministerial Commission (ITMC).
The trilateral IBSA Trilateral Ministerial Commission is expected to review the achievements and challenges of the forum and chart out a forward path.
Sushma Swaraj had met Nkoana-Mashabane during the 13th Pravasi Bharatiya Divas (PBD) in Gandhinagar in January. She is also expected to pay homage at sites associated to Mahatma Gandhi in Johannesburg.
The bilateral trade between the two nations stands at $11 billion, with it in favour of South Africa.
South Africa is India's second largest trading partner in Africa after Nigeria, said External Affairs Ministry spokesperson Syed Akbaruddin at a briefing here on Friday.
In Tanzania, Sushma Swaraj would meet with her counterpart and other senior officials with the aim of boosting trade relations among other things, the spokesperson said.
Sushma Swaraj, who is also the minister for overseas Indian affairs, would be interacting with the diaspora there. There are 50,000 people of Indian origin or Indian nationals living in Tanzania, he added. India-Tanzania trade is at $4 billion. Both sides would also discuss development cooperation, he added.