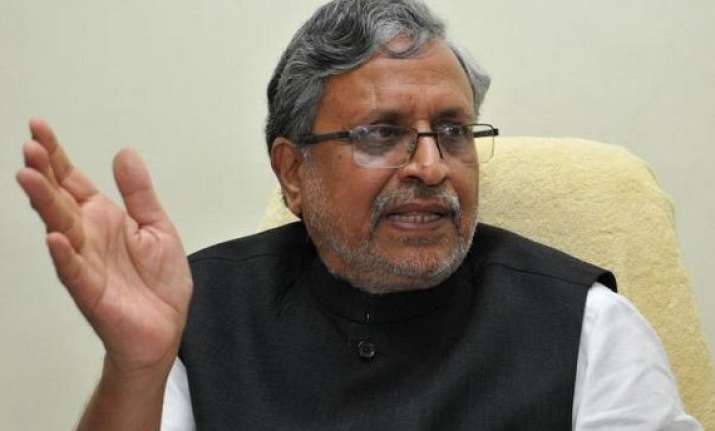 Patna: Expressing concern over "spate" in atrocities against women in Bihar, including the rape of six dalit women in Bhojpur district, senior BJP leader Sushil Kumar Modi today hit out at JD(U) government for its "failure" to crack the whip against perpetrators of such crimes.  
The rape of six women by three accused in Kurmuri village of Bhojpur district two days ago has shocked everybody and exposed holes in the law and order situation of Bihar in which criminal elements appeared to be calling shots, the former deputy chief minister of the state said in a statement.  
The rape cases against women has increased alarmingly, with 1128 cases being recorded last year, and the figure stands at 708 till July 2014, he claimed, adding that the numbers will be much more than those made public as many cases are hushed up by local people and in a number of other cases, the police refuse to take complaints from the victims.  
An utter sense of insecurity dogged women, particularly those living in rural areas, as they got no protection from the state government and local administration, he alleged.  
Launching a attack on former chief minister Nitish Kumar for "deterioration" of law and order situation in Bihar and "rise" in the number of crime against women, the former deputy chief minister recalled that Kumar used to pat himself for women and girls moving around in night too to harp on improved law and order situation in comparison to "lawlessness" that prevailed during the three terms of RJD.  
"Why law and order situation has suddenly turned so bad in Bihar, particular in the context of spate in crime against women?" he said and asked Nitish Kumar to explain it.  Similarly, there has been spurt in cases of murder, kidnapping, bank loot and dacoity in running trains, besides rape, Modi alleged and expressed fear that the state was being pushed back to days of "jungle raj", referring to JD(U)'s bonhomie with RJD.