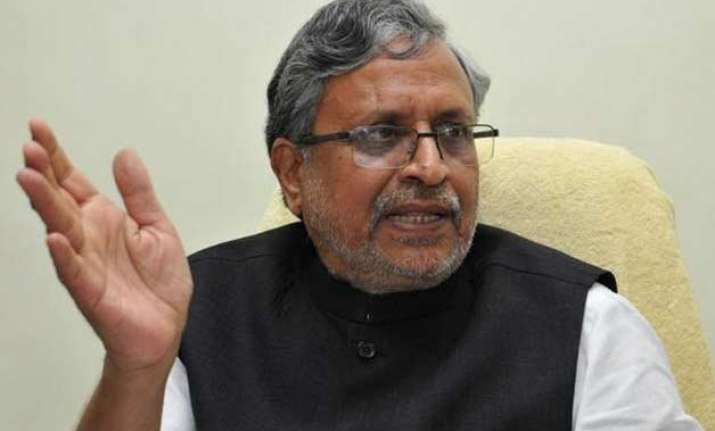 Patna: Senior BJP leader Sushil Kumar Modi today took a dig at Chief Minister Nitish Kumar's 'tree-fruit' comment on the merger of Janata parties, saying that a storm has destroyed all the flowers on the tree which is unlikely to bear any fruit.
Modi was apparently referring to the reported differences among the Janata party constituents creating a hindrance in their merger.
A storm has already uprooted the tree which could bear fruits, he told reporters referring to Samajwadi Party leader Ram Gopal Yadav's statement a couple of days ago that the merger process of six Janata Parivar constituents was not on due to "technical" reasons at least till the Bihar Assembly elections later this year.
The storm has also destroyed all flowers laden on the tree, so there was no chance that one would get to eat delicious fruits even when the season arrives, Modi said.  Terming the Janata Parivar merger as a "sour fruit", the former deputy chief minister of Bihar said the quality of fruits depended on the tree which bears it and in this case, "it was not good".
Kumar had yesterday claimed the Janata Parivar merger was on and quoted legendary poet Rahim as he said, "Dheere dheere re mana dheera sab kuch hoi, mali sinche sau ghara ritu aywe fal hoi... (Things happen slowly and gradually. Even if a gardener pours 100 pots of water, a tree will bear fruit only in the right season)".
The senior BJP leader also alleged the state government had incurred a loss of Rs 37 crore by awarding a tender for Rs 96 crore on turnkey basis for replacement of transformers and other electricity equipment under the Rajiv Gandhi Grameen Vidyutikaran Yojana (RMGVY) in some districts.  
Suppliers were given contracts at rates floated in 2012, due to which there was huge difference in the rates for supplying electrical equipment to state owned power company Bihar State Power Holding Corporation Ltd (BSPHCL), he claimed.
Alleging that contracts were awarded in gross violation of rules, Modi said that the suppliers were asked to supply the equipment at high rates so that the ruling party could seek funds from them during the Assembly polls.  Demanding a CAG probe into the matter, Modi sought cancellation of all contracts and stated if elected to power in the Assembly elections, BJP would review all such contracts.