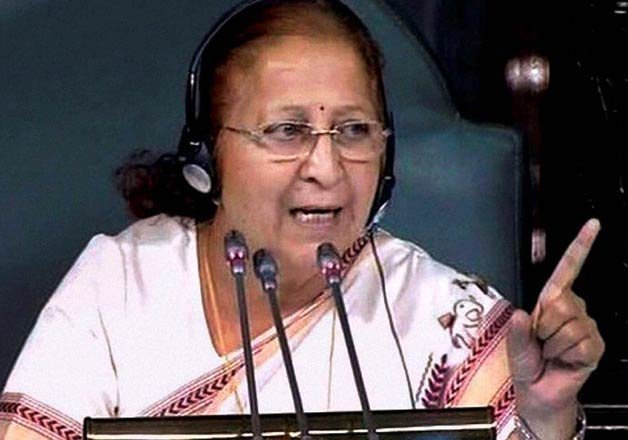 New Delhi: Lok Sabha Speaker Sumitra Mahajan today cited the difficulties she faces in providing adequate facilities to members as one of the reasons for her proposal to have a new Parliament building.
Mahajan said that in the coming days, the strength of the Lok Sabha could increase after a fresh delimitation and the present structure will find it difficult to accomodate more people.
She said that in an effort to make Parliament paper-free,she wants members to access the House documents online inside the Lok Sabha chambers. "But there is no space to put computers.
TMC members said at the time of voting they find it difficult to adjust on the benches," she explained.
She said since the present structure is a heritage building, not many changes can be made.
The Heritage Committee of Parliament had met recently to approve providing PNG (gas) pipelines in Parliament Building so that people can be served fresh food in canteens.
"There was often a complaint that chapatis are not warm.Now that has been taken care of," she said.
She said since M Venkaiah Naidu is both Parliamentary Affairs and Urban Development Minister, he will have to decide on the future course of action.
"These things often take time. The new place which should not be away from the present complex and other things take time," she explained.
Mahajan said she agreed with the proposal mooted by her predecessor Meira Kumar to go for a new building. "I have now put the file in process," she said.
She said one of the passing thougths was that Rajya Sabha can meet in the Lok Sabha chambers in the coming days. "There were a lot of suggestions. I am just sharing them," she said,adding everything is not in writing.
She had late last year written to Naidu asking him to consider initiating action for construction of a new Parliament building and suggested two options for the alternative site, one within the Parliament complex itself and another across the Rajpath.
Sources said the possible follow-up to the letter is that the Urban Development Ministry will prepare a note for the Cabinet where the matter could be considered.