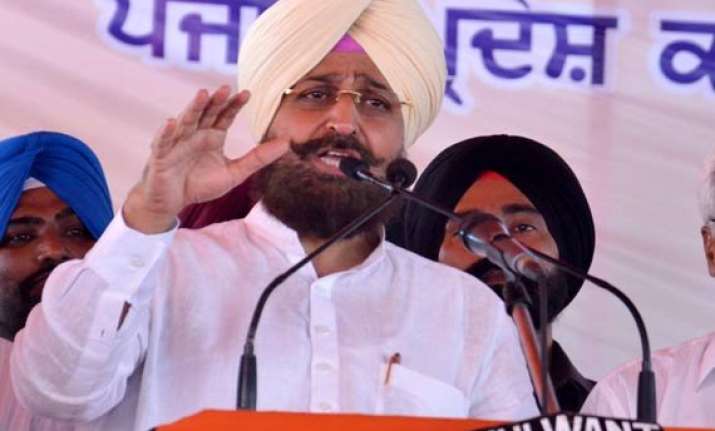 Chandigarh: Congress today accused Sukhbir Singh Badal of "giving a clean chit" to his brother-in-law and Minister Bikram Singh Majithia in the drug racket "even before the conclusion of the investigation" and said statements by the Deputy CM had the "potential" to "influence" the probe.  
"It is understandable that you (Sukhbir Singh Badal) have to defend your brother-in-law publicly, but then you also happen to be the Deputy Chief Minister and even before the investigation has reached any conclusion, you have already given him a clean chit," Punjab Congress President Partap Singh Bajwa said today in a statement.  
Read Also: ED questions Punjab Min B.S.Majithia in drug money laundering case
"Your statements have the potential to influence the course of investigation as your wife Harsimrat Kaur Badal is a minister in the Cabinet headed by Prime Minister Narendra Modi. It is for this reason that I have been demanding that the entire racket should be probed by CBI," he said.  
Bajwa said the Deputy Chief Minister had given a statement whereby he had said that the Punjab Police had done a commendable job by arresting notorious smuggler Jagdish Bhola and that he had taken Majithia's name only months after his arrest and that too before the media.  He said this was not the issue as the persons who had been arrested later in the case had been "known to be in Majithia's proximity."
"Moreover, no investigating agency would summon such a powerful person without finding at least some substance about the allegations even if coming from some accused," the PPCC President said.
He claimed earlier Tourism Minister Sarwan Singh Phillaur had submitted his resignation as the name of his son Damanbir Singh cropped up in the same case.
"Now Majithia was being questioned in the same case. How come he (Sukhbir) did not defend Phillaur at that time," he asked.
Bajwa also reiterated the party's demand that the investigation in the case be handed over to CBI as the Enforcement Directorate (ED) was going into only the money laundering matter of the racket.
The ED yesterday questioned Punjab Revenue Minister Majithia for over four hours in connection with its probe into the alleged money laundering in the Rs 6,000-crore international drug racket case.