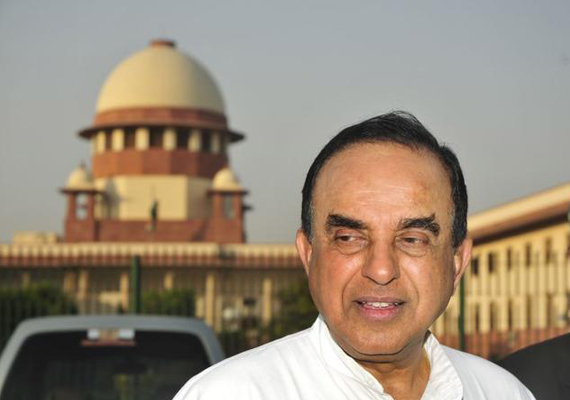 New Delhi, Aug 24: Janata Party president Subramanian Swamy today said he will seek a review of the Supreme Court judgement dismissing his petition in the 2G spectrum case against Finance Minister P Chidambaram.  
"I will seek a review of the judgement. I did not talk about conspiracy. I spoke about loss to the nation," Swamy said outside the Supreme Court shortly after his petition was rejected.
"It is a bad judgement. The Supreme Court never allowed me to complete my submissions," he told reporters.  He said the court has given its verdict on issues which he never raised and not touched on the important aspect of huge loss to the nation.
Government quickly came out in strong defence of Chidambaram. "Chidambaram has nothing to do with 2G case.  Swamy is always involved in filing these kind of petitions.  So, there is no ground for his petition. We will face him legally and politically if he tries to malign the Congress party," Minister of State in the PMO V Narayanasamy said.  
Even if Subramanian Swamy files a review peition in the apex court, it will be dismissed as he has no case, the minister said.
While welcoming the apex court's verdict, Information and Broadcasting Minister Ambika Soni criticised Swamy's decision to file a review petition.
"He (Swamy) is doing this to be always in the news. It's just wastage of court's time.
"Earlier also the court had dismissed his appeal against our party colleague (Chidambaram) on the ground that there is no evidence against him in the 2G case," Soni said.  
Law Minister Salman Khurshid said, "I certainly can express great satisfaction on the judgement. I had great conviction from the beginning and the court has also accepted our arguments in the case."
He said that this was Swamy's second failed attempt to make Chidambaram a co-accused in 2G case. "I think that one should allow the Supreme Court to take a final call on something".
BJP leader
Mukhtar Abbas Naqvi
, however, said that the government should not be so happy as they got a reprieve in the case only on technical grounds.  
"The whole Government is responsible for the 2G scam. If the Government has got relief in one case due to technical reasons, it doesn't mean the ministers are innocent".