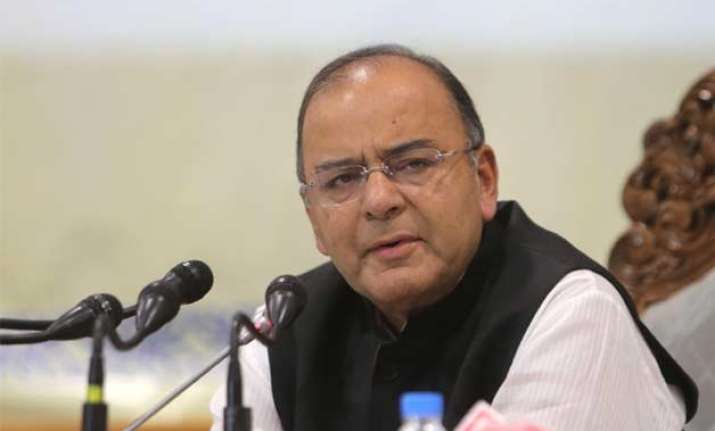 New Delhi: "Stop being Narad Muni, start being finance minister" was Congress's advice to Arun Jaitley on Wednesday in response to his criticism that the party leadership and not the party was responsible for the parliamentary logjam.
Accusing the Union finance minister of attempting to drive a wedge between the Congress and its leadership, party leader Jairam Ramesh said that this was being done as Jaitley has "lost complete command and control over the economic situation".
"Instead of being finance minister, Jaitley is being Narad Muni. He should stop being Narad Muni and start being finance minister," he told reporters at the AICC briefing.
According to legend, Narad Muni is a sage who used to travel distant worlds carrying tales from one side to another and often creating apparent tension when none exists. Insisting that there was no difference of opinion between the Congress party and its leadership, Ramesh remarked, "The finance minister is hallucinating that the Congress leadership and the Congress are two separate animals."
Besides, he claimed that Jaitley is "distracted and preoccupied" with fighting a battle to restore his credibility after the serious allegations made against him in the DDCA scandal. "Between a Prime Minister who is more focussed on a shameless personal PR campaign and an FM unable to give the requisite direction, the economy has been in a free fall," he alleged.
Ramesh's attack came close on the heels of reports that Jaitley and some other top ministers at an awards function of an economic daily two days ago slammed the Congress' 'first family' for the parliamentary logjam and hinted at adopting 'alternative means' to get key bills passed.
Senior party spokesperson Anand Sharma had on Tuesday rejected Jaitley's criticism of the party for disruptions in Parliament, telling the government that there cannot be a constructive engagement with the main opposition party by "targeting, blaming and insulting" its leadership.
Detailing "some worrying statistics" showing "disastrous" track record of the government, Ramesh said "growth is flat, exports are down, inflation is high, investment is down, industrial production at historic lows and this despite a revenue windfall caused by record low prices of crude oil".
Taking a dig at Modi, he said, "The rupee has, on his watch, fallen past the ages of the current Prime Minister and finance minister. At the rate at which it is going, we won't be surprised if it crosses the ages of the veterans he has retired to the BJP's Margdarshak Mandal."