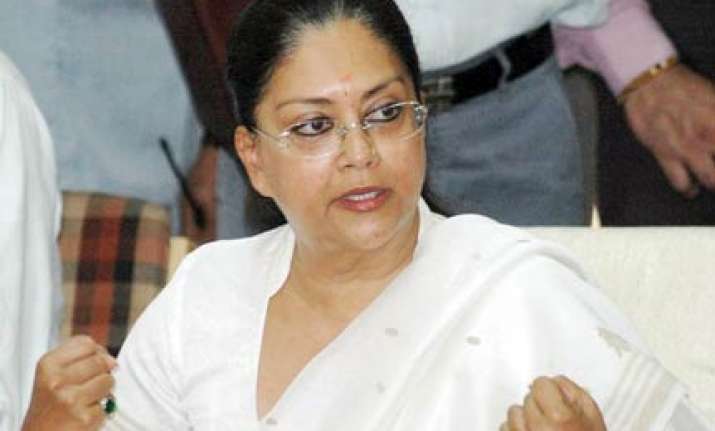 Jaipur, Nov 19: Former Rajasthan chief minister Vasundhara Raje today expressed shock over the magnitude of the 2G spectrum scam, saying the size of the 1.76 lakh crore swindle was equivalent to the state's budget for three and a half years.
"The 2G spectrum scam is so big that the amount involved in it could have been our state's budget for three and a half years," Raje said addressing students at a function in Rajasthan University campus here.
Terming the Adarsh Housing Society and 2G spectrum scams as unfortunate, the BJP general secretary said the rate at which scams were occuring in the country was a cause for concern and asked the youths to come forward to eradicate corruption.
Without naming Rahul Gandhi, she said the country would not prosper by somebody visiting Dalit houses and underlined the need for formulation of concrete policies   for the uplift of the poor and tribal people.
"The country needs good and concrete policies and schemes for the uplift of the poor and Dalits. Their progress cannot be brought about by visiting their houses and sharing meal with them," she said, adding, it can attract good media coverage but cannot give relief to Dalits.
Charging the state government with non-performance, the former chief minister said, "We gave jobs to 10 lakh people in five years whereas this government has so far done nothing. Not only this, the jobs the state government would provide in the next two years, was actually generated during my tenure."
Later, talking to reporters, she accused Gehlot government of having no vision and said it was trying to divert people's attention from its failures by linking the name of senior RSS leader Indresh Kumar with Ajmer Dargah blast case. PTI