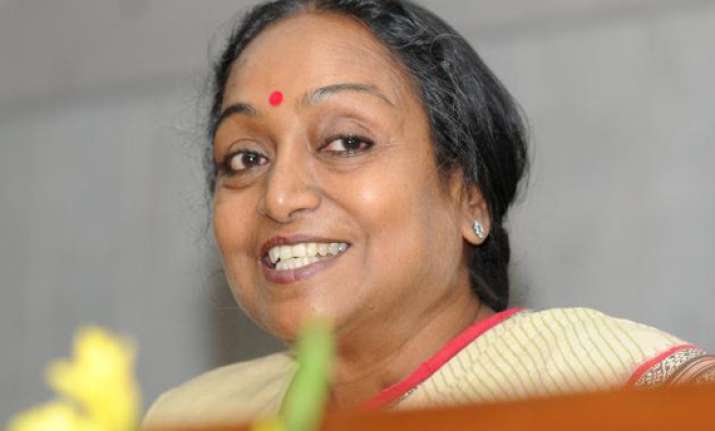 New Delhi, Nov 20: Meira Kumar will meet the leaders of various political parties on Wednesday to chalk out an agenda for Parliament's smooth functioning during the winter session from Nov 22-Dec 20, officials said.
"The Speaker will meet the leaders of parties in the Lok Sabha on Wednesday," said a statement from her office on Tuesday.
The Speaker will also urge the leaders to ensure smooth functioning of the lower house of Parliament given the fact that 13 out the 20 working days in the previous monsoon session were lost to disruptions by the Bharatiya Janata Party (BJP) over faulty coal block allocations, as alleged by the official auditor, it said.
Among those expected to attend the meeting are leader of the Lok Sabha and home minister Sushilkumar Shinde, parliamentary affairs minister Kamal Nath, Leader of Opposition Sushma Swaraj, Janata Dal (United) president Sharad Yadav, Communist Party of India leader Gurudas Dasgupta and Rashtriya Janata Dal chief Lalu Prasad besides others.
The opposition parties are preparing to corner the government on various issues.
While former ally Trinamool Congress's chief Mamata Banerjee has announced her party will bring a no-confidence motion against the Congress-led UPA government, the CPM wants a debate and a vote on the decision to allow foreign equity in multi-brand retail.
The government has said it is ready for a no-confidence motion.
Prime Minister Manmohan Singh has already reached out to the United Progressive Alliance (UPA) constituents and the Samajwadi Party and the Bahujan Samaj Party, which support it from outside.
The Prime Minister had earlier invited BJP leaders - Sushma Swaraj, Arun Jaitley and party veteran L K Advani over dinner on Nov 17. However, the meeting could not take place due to the passing away of Shiv Sena leader Bal Thackeray the same day.
CPI-M leader Prakash Karat said on Monday his party would raise in the house issues like FDI in retail, corruption and price rise. He earlier said that Mamata Banerjee's no-confidence motion will not be useful at this stage as the government has the numbers.
The BJP is also opposed to the foreign direct investment (FDI) move of the central government.