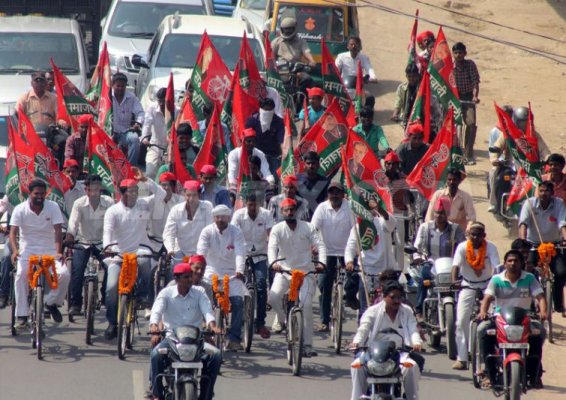 New Delhi: Samajwadi Party today named six candidates for the upcoming Rajya Sabha elections including party chief Mulayam Singh Yadav's cousin Ram Gopal Yadav and Uttar Pradesh minister Azam Khan's wife Tanzeem Fatima, who surprisingly turned down the offer.
Mulayam also declared Neeraj Shekhar—the son of former prime minister Chandra Shekhar --, Ravi Prakash Verma, Javed Ali and Chandra Pal Singh Yadav as party nominees for elections to the Upper House.
Elections for 10 Rajya Sabha seats in UP will be held on November 20 and SP is certain to win six. Though party nominated Fatima, the wife of senior SP leader and the party's Muslim face Azam Khan who is close to Mulayam, she promptly issued a statement saying that "a more competent person for the Upper House" may be selected.
According to the spokesperson of the minister, Shanu, "Tanzeem Fatima has not accepted the offer of the party supremo Mulayam Singh Yadav to send her to Rajya Sabha."
"You may please select a more competent person for the Upper House," she said in her communication to the SP chief. "Thanks for your offer, but as far as my entering into Rajya Sabha is concerned I and my entire family attach more importance to be treated as your family members," Tanzeem said.
"Hum shana ba shana aapke sath hamesha se rehe hain aur hamesha rahenge (We have always been with you shoulder to shoulder and we shall do that in future as well)," according to the communique.
Despite speculation that the party may renominate its former member Amar Singh, who is retiring from the Upper House, due to his personal equation with Mulayam, the leader who was expelled by the party in February 2010 did not make it to the list.
Reports had it that SP was also considering the name of RLD chief Ajit Singh for a berth in Rajya Sabha after the Jat leader's party failed to win a single seat in the Lok Sabha elections.