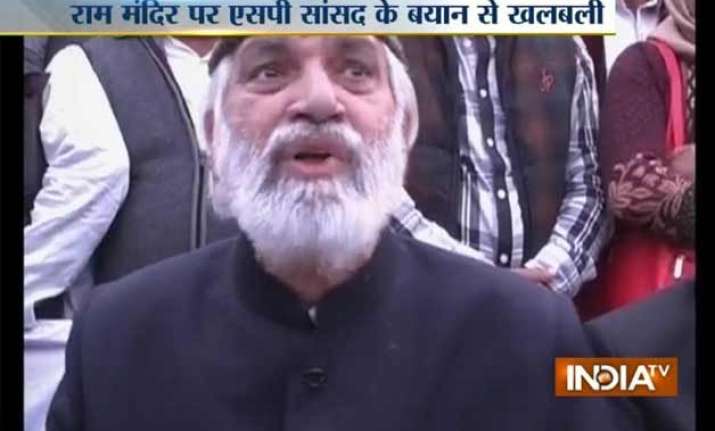 New Delhi: In an embarrassment to his own party, Samajwadi Party's Rajya Sabha MP, Choudhary Munawwar Saleem, has backed the construction of Ram temples in the country.
Speaking at a function, Saleem said that no one has right to stop or question the setting up the structure.
"You can find Ram Mandir everywhere in the world. Malaysia is a Muslim dominated nation, you will find more temples in Malaysia from here. Why it should not be constructed? Who has courage to stop Ram Mandir in India? If not here, where will it be built?" the Samajwadi MP told reporters on the sideline of an event on Tuesday.
(Ram Mandir puri duniya mein bana huwa hai. Malaysia Musalmano ka mulk hai, waha yaha se jyada bane hue hain. Kyu nahi banna chahiye? Kaun maai ka laal rok lega Ram ka Mandir Hindustan mein? Yaha nahi banega to kaha banega?)
Saleem, who hails from Vidisha in Madhya Pradesh, was sent to the Rajya Sabha by the Samajwadi Party in 2012.
Recently, Saleem was made the party in-charge of three Uttar Pradesh districts -- Azamgarh, Hathras and Etah.
UP BJP president Laxmikant Bajpai welcomed Saleem's statemen but also used the opportunity to take a dig at him.
"He spoke his mind but I want to ask him whether he has consulted Azam Khan before making the statement," Bajpai said.