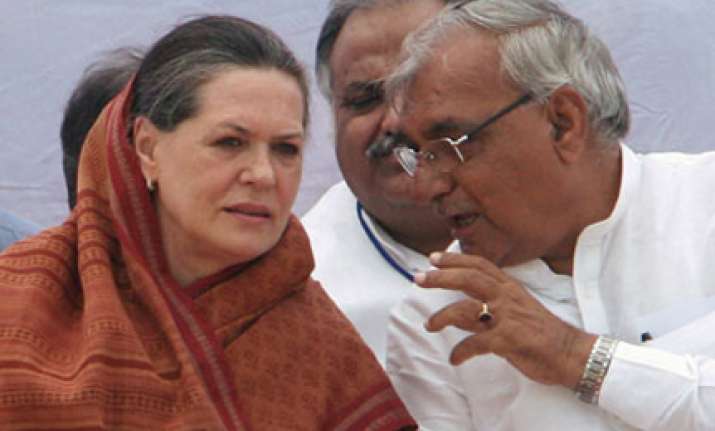 On the campaign trail in Haryana for the assembly elections, Congress President Sonia Gandhi on Sunday in Karnal attacked the opposition parties for having "destroyed" the state during their rule and said it was the Congress that brought it back on the path of development after coming to power in 2005.
 "I am confident that to ensure development, peace and prosperity you will vote for the Congress and reject those parties which have destroyed Haryana over the years," Gandhi said in her first election rally here.
Recalling the periods of previous non-Congress governments in the state, she alleged the farmers, youth, poor and other sections were in a pathetic condition.
"I am satisfied that you will repose faith in the Congress under the leadership of (Bhupinder Singh) Hooda during whose tenure the state progressed on all fronts and come up to the expectation of the people."
The Congress president expressed confidence that in the forthcoming assembly elections voters will again take a similar decision which they had taken in the last assembly elections (in 2005) and the recent Lok Sabha poll in which the party won nine out of 10 seats.
She said that the Centre will continue to render all help to Haryana as the state has achieved progress on many fronts, including health and education. A Central University is being set up at Mahendragarh and an AIIMS is coming up at Jhajjar, she added.
Gandhi said a defence university and the Rajiv Gandhi Education City were being set up in the state and the Mahatma Gandhi Gramin Basti scheme was launched for the poor.
Gandhi also referred to the 'Ladli' scheme (to stop female foeticide) and the 'Vivaha Shagun' scheme and various steps taken for the benefit of freedom fighters and the elderly.
The sixth Pay Commission had been implemented benefiting government employees, she said and added that farmers had been given the highest ever price for their sugarcane crop.
Gandhi praised Hooda and said his government gave maximum benefit to the farmers and took initiatives to ensure better future for the youth, she added.
She said the government had also launched programmes relating to irrigation, construction of Road Over Bridges and road network, setting up of Thermal Power Plant and several other developmental projects in the state.
"If the pace of development is to be maintained then support the Congress," she said adding she was sure that the people knew which button (on the Electronic Voting Machine) they had to press on October 13.
She also recalled the services rendered by Indira Gandhi and Rajiv Gandhi saying, "We are dedicated to protect their principles."
Elections to the 90-member state assembly will be held on October 13. PTI