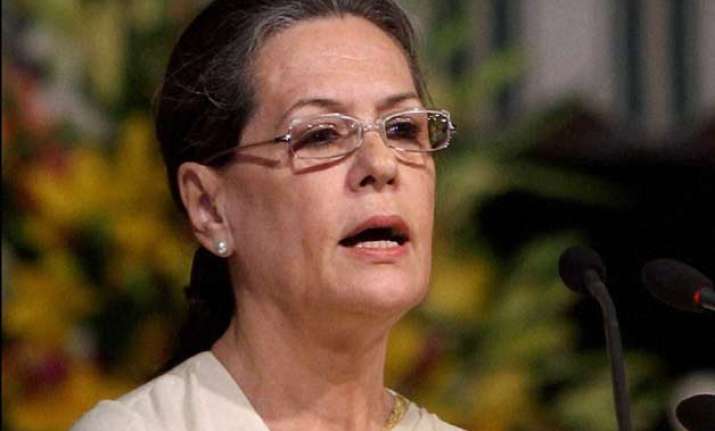 New Delhi: Congress President Sonia Gandhi today brushed aside queries about a larger role for Priyanka Gandhi in the party and appeared annoyed over repeated questions on Rahul Gandhi.
"You ask the same question again and again. You will get to know when he comes back," snapped the Congress chief when asked by reporters in Parliament House as to when will the Vice President return from his sabbatical.  She did not pay attention to the queries from reporters that whether Priyanka Gandhi will be appointed in some senior role in the AICC.
At the AICC briefing, party spokesperson Randip Surjewala expressed ignorance when asked whether Priyanka was being made a general secretary of Congress. "I do not have any such information," he said.
There is media speculation about a larger role for Priyanka very soon to supplement Rahul Gandhi. The buzz was that Priyanka could be made a Secretary General in the AICC or a Joint Secretary.
However, sources close to the leadership, have downplayed such an eventuality suggesting nothing of that sort was  on the cards, at least not immediately.
On questions about Rahul and whether he was in Thailand doing 'Vipashyana', he said,"Congress Vice President has gone on voluntary leave for introspecting over recent events after seeking leave from the party chief.
"So rumour mongering and inuendos in this regard are neither in good taste nor appreciated.  He will come back not only to handle his responsibility of leading the Indian National Congress but also championing the cause of the people of this country," he said.
The party had earlier said that Gandhi had taken two-weeks leave to reflect on the current incidents and the future of the party.
There was a speculation that Gandhi is in Uttarakhand.  With the two-week time nearing an end, Gandhi is expected back soon.