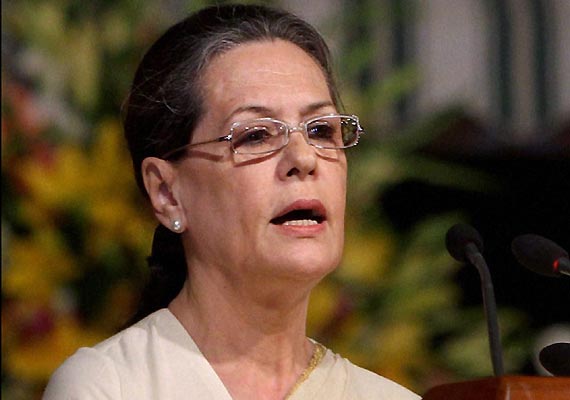 New Delhi, Jul 31: Congress President Sonia Gandhi today asked Telangana leaders to maintain "restraint, brotherhood and cordial relations" with people of Andhra and Rayalseema regions as the process started for creation of a separate state.
A delegation comprising Union Ministers S Jaipal Reddy, Balram Naik, MPs Ponnam Prabhakar, S Rajaiah, P Govardhana Reddy and a large contingent of state ministers from the region called on Prime Minister Manmohan Singh, Sonia Gandhi, and NCP chief Sharad Pawar to thank them for the Telangana decision.
Rahul Gandhi
was also at 10 Janpath, when the Telangana leaders visited there.
During the 20 minute-long meeting with Gandhi, the Telangana leaders also had a photo opportunity with the Congress President.
"You have to maintain restraint because some people may be aggrieved over the decision. Maintain brotherhood with people of other regions with whom you have lived for so long. Maintain a cordial relationship and give support to people from the other regions, who have settled in the Telangana region," Gandhi is learnt to have told the delegation.
Talking to PTI, party MP Rajaiah said that Gandhi was keen that people from non-Telangana regions living in Hyderabad and other districts of the Telangana region are given support and have a sense of belonging.
"We thanked her for the decision on Telangana saying it would be a red-letter day and assured her that we will co-operate with our brothers from other two regions. The fact is that they have settled not only in Hyderabad but in all other nine districts of Telangana and are holding key posts there.
"They never faced a problem and will not do so in future. They are living with us for more than 150 years and there was never a problem in maintaining harmony," he said.
Another MP Ponnam Prabhakar said that Telangana leaders have also decided to form a Sadhbhavana Group and meet the legislators and MPs from other two regions seeking their cooperation in formation of the new state for which Congress Working Committee passed a resolution yesterday.
However, some Union Ministers and Congress MPs from Andhra and Rayalaseema regions, who are upset over the decision to form Telangana state, will have a strategy meeting here tomorrow to chalk out their plan of action to "try and restrain" the Union government from implementing it.
The anti-Telangana Congress ministers and MPs, who are around 25 in number, have been holding informal consultations ever since the Congress Working Group (CWC) took the decision last night, sources said here today.
They unhappy leaders include Textiles Minister K Sambhasiva Rao and MPs Lagadapati Rajagopal, Ananta Venkatarama Reddy and V Aruna Kumar.
A few of them are even considering resigning from their membership in the Parliament "if that could help halt" the creation of Telangana state out of Andhra Pradesh, sources indicated.
"It is a deep crisis. We are going to meet tomorrow. A collective decision will be taken on how to handle this situation," a senior MP who is among the organisers for the meet told PTI requesting anonymity.
V Aruna Kumar told PTI that "Everything including the idea of a shared capital for 10 years is vague."
He said, "We have to wait for the Bill to be tabled (in Parliament).
Talking to reporters, Venkatarama Reddy described the Telangana decision as "unfortunate" and said "We did not expect this."
He said the Centre must have a "rethink" on the decision and consider the views of those from Andhra and Rayalaseema regions.