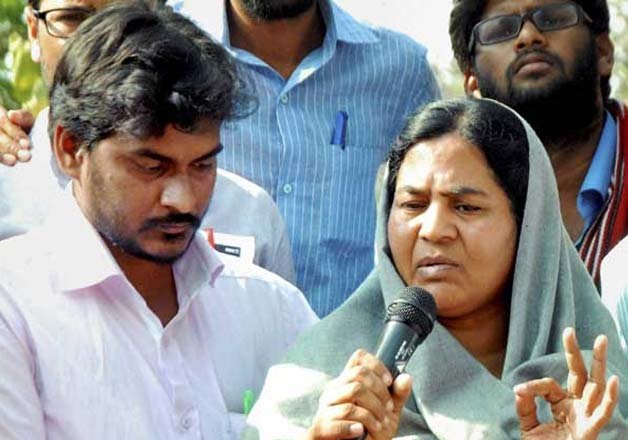 New Delhi: Mother of Hyderabad University scholar Rohith Vemula today alleged that HRD ministry had labelled his son as anti-national and extremist.
Adressing a press conference, She countered Irani's claim that Rohith was not denied fellowship money, she said" HRD minister is lying my son never recieved the stipend for seven months.
She also dismissed HRD Minister Smriti Irani's claim that Chief warden was part of the inquiry committee.
"Letters that were forwarded from HRD Ministry indicated that students were branded as anti-national and extremists. I demand an explanation as to how my son became anti-national and extremist," she added.
Speaking at the same conference, Rohith's friend demanded action against Smriti Irani for making 'false statements'.
"We want to expose false words being propagated by minister Smriti Irani in Parliament. Why is no action being taken against Smriti Irani who is repeatedly giving false statements?" he asked.
He further said that Union Minister Bandaru Dattatreya branded his friend Rohith as an extremist and PM Modi did not take any action against the minister.
"PM Modi said India has lost her son. I want to ask him, if India has lost her son, same son was branded as anti-national, same son was branded as extremist by your Cabinet Minister Bandaru Dattatreya, what action has PM Modi taken against him?"