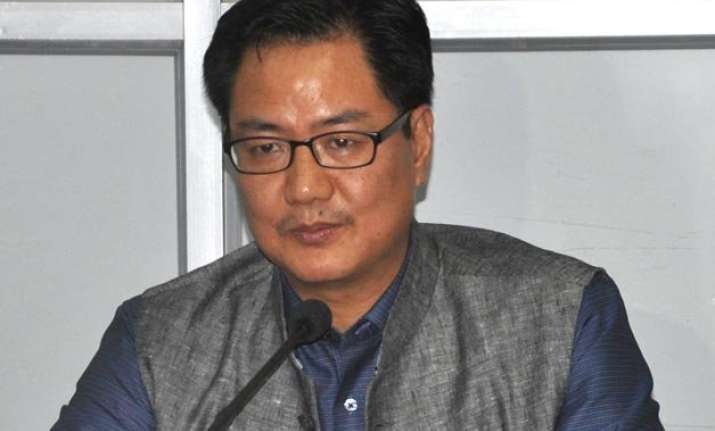 New Delhi: Crime against children in cities like Delhi and Mumbai are disappointing and smart cities will not be a reality if the children are not safe, Minister of State for Home Affairs Kiren Rijiju said on Friday.
"It is disappointing to see the figures of sexual abuse of children, especially in cities like Delhi and Mumbai. We can't dream of a smart city if children are not safe and secure. Though there are various laws to protect children, the incidents of child abuse are only increasing," said Rijiju.
He was speaking at the releasing of the report 'Forgotten Voices: the world of urban children in India', compiled by PricewaterCoopers India and Save the Children.
According to the report, there was a 24 percent increase in crimes against children between 2010 and 2011 and a further 52.5 percent rise from 2012 to 2013. 
It also said highly urbanised states such as Delhi and Maharashtra were third and fourth in the list where most of these crimes take place.
The girl child was more prone to trafficking and exposed to sex work in cities, it pointed out.
The report said the higher-than-average crime rate meant that children in the cities are not only victims to such violence but were in the danger of becoming a part of organised crime rackets.
A study of the child labour segment indicates that almost 70 percent children reported physical abuse, slapping, kicking, burns, and 32.2 percent reported sexual abuse.
The report also highlighted health as a major concern among urban kids. 
In urban India, over 32 percent children under five years are underweight and 39.6 percent are stunted. Also, 21.5 percent newborns have low birth weight.
Another emerging problem is the rising prevalence of child obesity, especially in the middle and upper middle classes. Research showed that in the private schools of Delhi, 29 to 32 percent of children (14-18 years) are overweight.
It further said though the urban population in India has better access to sanitation, coverage is failing to keep up with the population growth -- one in five households in India does not have a household toilet.
The report also pointed out lacunae in the area of education. 
While Census 2011 showed that child population (0-18 years) increased by 12.8 percent in urban areas during the preceding decade, neither the corresponding enrollment at schools nor the number of education facilities and teachers increased proportionally.